U.S. Economic Expectations Drop to Two-Year Low Amid Shutdown
(Bloomberg) -- U.S. consumers this month were the most downbeat on the economy since November 2016, a third straight drop after expectations reached a 16-year high just three months earlier, as the partial government shutdown wears on toward a fourth week.
The Bloomberg Consumer Comfort Index's monthly expectations gauge fell for a third month to 44.5 in January as more respondents said the U.S. economy is getting worse, according to a report on Thursday. Meanwhile, the weekly comfort measure declined to a four-month low of 58.1 as sentiment on the buying climate fell to its lowest since November.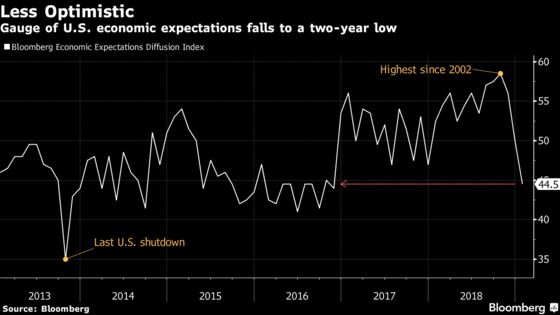 The faltering sentiment reflects a dimmer economic outlook among Americans amid the longest U.S. government shutdown on record. The monthly gauge also fell sharply during the last lengthy shutdown in October 2013, when the index dropped the most since the last recession; it rebounded the following month with the government open again.
A sustained decline in sentiment would suggest that consumer spending, which accounts for about 70 percent of the economy, is at risk of a deeper-than-expected slowdown this year.
Despite the recent decline in the weekly gauge, the index remains near historical highs, helped by a tight labor market.
Measures for sentiment among high school graduates and those 65 and older both fell to the lowest since July. The measure also fell across most income levels as well as for Democrats and independents.
The index rose across three of four regions, while sentiment in the Northeast dropped by the most in two years. The gauge increased among Republicans, renters, and for workers earning more than $50,000.