U.S. Consumers Show Little Evidence of Pain From Rout in Stocks
(Bloomberg) -- U.S. consumers are showing little sign so far that this month's stock-market plunge is denting their optimism or spending.
The Conference Board's consumer confidence index rose in October to an 18-year high of 137.9, according to a report Tuesday. Sentiment increased among respondents with incomes of $50,000 and above, and the share expecting stock prices to increase in 12 months advanced to 44.5 percent, the highest since January, the Conference Board said. The survey cutoff was Oct. 18, about a week after stocks fell by the most since February.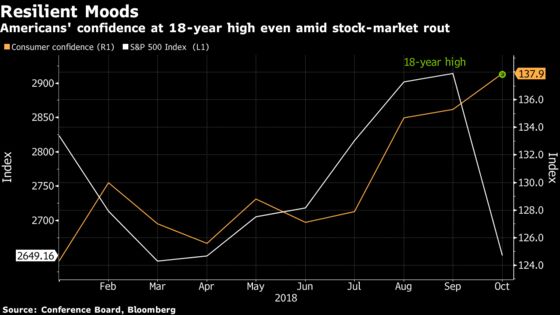 Meanwhile, a separate report Tuesday showed U.S. retail sales at comparable stores rose 5.9 percent in the week ended Oct. 27 from a year earlier, with sales expected to be up 6.3 percent for the full month, according to Johnson Redbook. Official retail-sales data from the Commerce Department for October are due Nov. 15.
The Johnson Redbook survey contrasted with figures from The Retail Economist/Goldman Sachs, which said comparable-store sales were up just 0.8 percent last week from a year earlier, the smallest gain since September 2017.
Even so, the lack of a deep impact in the confidence and Johnson Redbook figures is in line with the view that it would take a bigger, more sustained drop in stocks to cause a significant hit to the economy.
Federal Reserve officials, who are expected to raise interest rates in December, have largely shrugged off the equity rout and indicated the moves haven't yet changed their outlook.
It would take a decline of 15 percent to 20 percent to "force a more far-reaching revision to the Fed's policy plans," Krishna Guha, the head of central bank strategy at Evercore ISI, said in a report earlier this month.
Stephen Stanley, chief economist at Amherst Pierpont Securities, said in a note Tuesday that the drop in stocks "may impact consumer attitudes going forward but, based on historical experience, should have a greater effect on the University of Michigan index than on the Conference Board gauge."