U.S. Consumer Spending Picks Up; Inflation Below Forecast
(Bloomberg) -- Americans' spending rose by more than forecast in October, giving the biggest part of the economy a solid start to the quarter, while a measure of underlying inflation cooled to the slowest since February.
Purchases rose 0.6 percent after a downwardly revised 0.2 percent advance, Commerce Department data showed Thursday. The median forecast in a Bloomberg survey called for a 0.4 percent gain. Incomes increased 0.5 percent, more than projected and the most since January, partly reflecting government subsidy payments to farmers.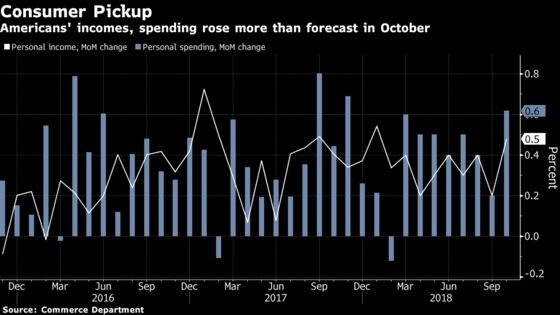 Excluding food and energy, the Fed's preferred price measure rose 1.8 percent from a year earlier, missing forecasts for 1.9 percent. The central bank targets 2 percent inflation including all items, though it looks to the core gauge as a better indicator of underlying price trends.
Americans' spending is poised to keep driving growth this quarter, supported by a strong job market, lower taxes and improving finances that'll likely also boost holiday spending. Even with the weaker inflation readings, the Fed is widely anticipated to move ahead with an interest-rate hike in December, though the pace of moves beyond that is less certain.
"On inflation, the core figure was pretty benign, you're just below the 2 percent goal," said Scott Brown, chief economist at Raymond James in St. Petersburg, Florida. Inflation is likely to rebound "because of the big impact from tariffs and wages going up," with price gains heating up at the start of 2019 and then cooling later in the year.
There were several caveats in Thursday's figures: The saving rate fell to 6.2 percent, the lowest this year and matching the lowest since 2013. Incomes were boosted by an $11.6 billion increase for farmers, which includes the subsidy payments. And the biggest contributor to the increase in services spending was household electricity and gas, which tends to reflect weather swings.
A separate Labor Department report on Thursday showed filings for U.S. unemployment benefits rose for a third week to the highest level since May, potentially reflecting volatility around two consecutive periods that included holidays.
The inflation figures could also add to speculation that the Fed will move more slowly than it expects on interest-rate hikes in 2019.
So-called core prices, which exclude food and energy, increased 0.1 percent from the prior month, less than the median estimate of a 0.2 percent rise. The main gauge rose 0.2 percent from the previous month, in line with projections, though it was up 2 percent from a year earlier, compared with forecasts for 2.1 percent.
The report follows comments Wednesday by Fed Chairman Jerome Powell seen by investors as supporting the idea that policy makers are increasingly open to pausing their series of hikes next year, though he said he expects inflation to remain near 2 percent.
Consumer spending, which accounts for about 70 percent of the economy, had been projected to moderate this quarter after rising in the prior three months at a 3.6 percent annualized pace that was revised down from 4 percent. The economy also is forecast to cool, after the best back-to-back quarters of growth since 2014.
Wages and salaries rose 0.3 percent in October for a second month, adding to steady gains this year, Thursday's data showed. Real disposable income, or earnings adjusted for taxes and inflation, was up 0.3 percent after a 0.1 percent increase.
Even so, while hiring remains strong and the unemployment rate is the lowest since 1969, workers' paychecks have yet to show a sustained, robust acceleration.
Durable goods spending, adjusted for inflation, rose 0.4 percent after a 0.3 percent increase in the prior month; nondurable goods climbed 0.3 percent after a 0.1 percent increase.
Household outlays on services, adjusted for inflation, rose 0.5 percent after a 0.1 percent gain in the prior month.