U.S. Consumer Spending Cools; Inflation Stays Near Fed Goal
(Bloomberg) -- U.S. consumer spending rose in August at the slowest pace in six months, moderating from more robust readings on the biggest part of the economy. Inflation remained near the Federal Reserve's target pace.
Purchases, which account for about 70 percent of the economy, rose 0.3 percent from the prior month, slowing from 0.4 percent the prior month, Commerce Department figures showed Friday, and matching the median forecast in Bloomberg's survey. Incomes rose 0.3 percent, less than projected.
The softer readings may signal that consumers aren't as eager to splurge even amid a solid labor market, lower taxes, and improving finances that boosted second-quarter consumption. A trade war that's widened to include tariffs on consumer goods from China has the potential to raise prices and affect demand, after signs that the tensions are hurting exports and business investment.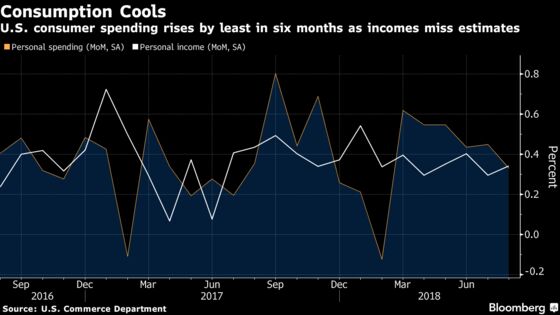 "Consumers aren't overdoing it," said Russell Price, senior economist at Ameriprise Financial Inc. in Detroit, who accurately forecast the household spending gain. "The economy is growing at a solid rate but not at an overly strong pace that would otherwise induce inflation."
Inflation-adjusted spending rose 0.2 percent, also the weakest since February.
The Fed's preferred measure of inflation remains near the central bank's 2 percent goal, while it's on target excluding food and energy. Policy makers have penciled in further interest-rate hikes over the next year, expecting to keep inflation in check.
The data on Friday showed the Fed's preferred inflation gauge -- tied to consumption -- rose 0.1 percent from the previous month and climbed 2.2 percent from a year earlier.
Excluding food and energy, so-called core prices were little changed, falling short of economist projections for a 0.1 percent rise. The core index, seen as a more reliable gauge of underlying inflation, rose 2 percent from a year earlier.
What Our Economists Say
The income and spending results for August show that the economy is on a healthy trajectory. However, the ongoing string of weak inflation readings raises questions regarding the extent to which the Fed needs to rein in activity in order to quell inflation pressures, at least based on the current state of the economy. Policy makers avoided lowering their estimate of the longer-run neutral level of the unemployment rate at the latest meeting; however, given the ongoing lack of wage pressures, Bloomberg Economics expects this will be subject to a downward revision at some future date.

-- Carl Riccadonna, Yelena Shulyatyeva and Tim Mahedy, Bloomberg Economics

Read more for the full reaction note.
The economy expanded at a 4.2 percent annualized rate in the second quarter, the fastest since 2014, with consumption rising at a 3.8 percent pace, revised data showed Thursday.
Wages and salaries rose 0.5 percent, the most since January, the August report showed. Real disposable income, or earnings adjusted for taxes and inflation, increased 0.2 percent for a second month.
While the latest results offer an encouraging indication for compensation, paychecks have been slow to show sustained progress even with robust hiring and an unemployment rate hovering near the lowest since 1969.
The report also showed the saving rate was unchanged at 6.6 percent, matching the lowest reading for this year. Revisions in July showed Americans were socking away more money in recent years than had been earlier thought.
Durable goods spending, adjusted for inflation, rose 0.2 percent from the prior month after a 0.1 percent gain in July; nondurable goods increased 0.4 percent after a 0.7 percent rise
Household outlays on services, adjusted for inflation, rose 0.2 percent for a second straight month