U.S. Consumer Sentiment Eased in October, Missing Forecasts
(Bloomberg) -- U.S. consumer sentiment unexpectedly dipped in October to a still-elevated level amid slightly dimmer views of personal finances and the long-term economic outlook, a University of Michigan report showed Friday.
Highlights of Michigan Sentiment (Oct., Preliminary)
Sentiment index fell to 99 (est. 100.5) from prior month's 100.1
Current conditions gauge decreased to 114.4 from 115.2
Expectations measure slid to 89.1 from 90.5
Key Takeaways
This week's sharp drop in U.S. stocks overlapped with survey interviews by only one evening, "having virtually no influence on the early October data," according to the report. The poll was conducted from Sept. 26 through Oct. 10, the day the S&P 500 index fell by the most since February.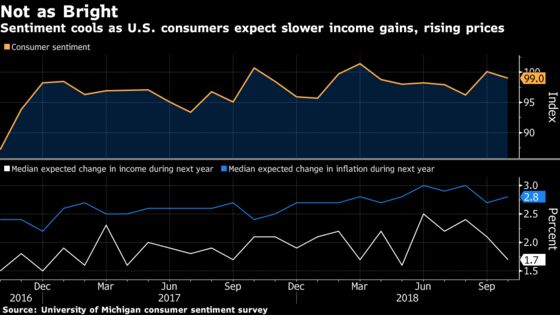 Even so, a gauge of current views on personal finances fell to the weakest level since May, and the outlook for finances also softened. The median expected gain in Americans' income weakened to 1.7 percent, down from 2.1 percent in September, according to the report.
The report said confidence in the government's economic policies rose in October to the highest in more than a decade, a potential positive sign for Republicans ahead of midterm elections that will decide control of Congress.
Special questions on the vote showed 35 percent of respondents in September and October said Republican control of Congress would be better for the overall economy, compared with 26 percent who favored Democrats. Thirty-six percent said party control wouldn't make much difference. The poll showed a similar breakdown in responses to a question about which party would be better for personal finances.
The broad sentiment gauge is still hovering around elevated levels that reflect a strong economy, tight labor market and benefits of tax cuts, despite an escalating trade war with China.
The report also showed consumers anticipate faster gains in prices over the coming year. Inflation expectations for the year ahead rose to 2.8 percent from 2.7 percent in the prior month, while the inflation rate over the next five to 10 years was seen at 2.3 percent, down from 2.5 percent in the previous survey.
Official's Views
"Consumer sentiment slipped in early October, although it remained at quite favorable levels," Richard Curtin, director of the University of Michigan consumer survey, said in a statement. "Unfortunately, the downward revisions in the pace of growth in household incomes were accompanied by upward revisions in the year-ahead expected inflation rate."