U.S. Consumer Credit Rose by Less Than Estimated in September
(Bloomberg) -- U.S. consumer debt posted the smallest increase in three months as credit-card loans fell, suggesting Americans had limited appetite to spend beyond their means, Federal Reserve figures showed Wednesday.
Total credit rose $10.9 billion in September from the prior month, compared with the median estimate of economists in a Bloomberg survey for a $15 billion increase. That followed an upwardly revised $22.9 billion gain in August.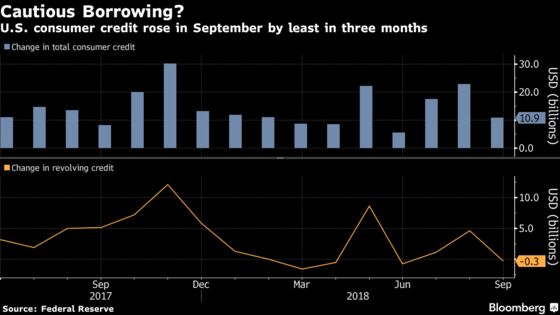 Key Insights

The data reflected a $312 million decrease in revolving debt, the third decline in six months. That figure, which includes credit cards, shows consumers were staying cautious on running up such debt toward the end of the third quarter.
Previously released data showed a broad-based increase in most categories of retail sales in September, which was accompanied by a drop in restaurant receipts that may reflect the impact of Hurricane Florence. A separate report showed that Americans were saving less of their income as they kept spending, with consumption supported by a strong labor market.
The $11.2 billion increase in non-revolving debt, which includes loans for education and automobiles, is consistent with industry data showing steady gains in sales of vehicles the past two months.
The Fed's plan to gradually lift interest rates, including an expected hike in December, may push up borrowing costs further and constrain demand for big-ticket purchases, especially cars.
Get More

Lending by the federal government, which is mainly for student loans, rose by $12.1 billion in September before seasonal adjustment.
Credit increased at a seasonally adjusted annual rate of 3.3 percent, after 7 percent in the prior month; the 5.3 percent increase for the third quarter was the fastest since late 2017.
Student loans outstanding rose by $33.2 billion in the third quarter, while auto debt increased by $18.5 billion, on an unadjusted basis.
The central bank's consumer credit report doesn't track debt secured by real estate, such as mortgages and home equity lines of credit.
For more data, see our table
©2018 Bloomberg L.P.