U.S. Consumer Credit Growth in March Was Slowest in Nine Months
(Bloomberg) -- U.S. consumer debt growth eased in March with the smallest increase in nine months, suggesting Americans were less motivated to spend despite the strong labor market.
Total consumer credit rose $10.3 billion from the prior month, missing all economist estimates in Bloomberg's survey, after an upwardly revised $15.5 billion gain in February, Federal Reserve figures showed Tuesday. Revolving debt outstanding fell for the second time in four months while non-revolving credit advanced.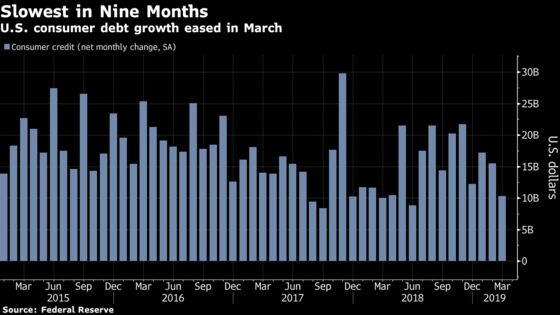 The increase, while unexpectedly weak, still points to an upbeat consumer. A healthy employment market along with steady wage gains will likely help households maintain spending in the coming months despite a soft start to 2019.
A separate report last week showed the labor market remains robust, with job growth topping estimates in April as the unemployment rate hit a fresh 49-year low.
Revolving credit outstanding, which includes credit card debt, decreased $2.18 billion after a $3.08 billion rise the prior month, indicating consumers ended the quarter more cautious about some borrowing.
Non-revolving debt outstanding climbed $12.5 billion after $12.4 billion. Such debt includes loans for school and autos.
Credit expanded at a 3.1 percent annual rate after growing 4.6 percent in February.
Economists surveyed by Bloomberg had projected the credit gauge would rise by $16 billion.
Lending by the federal government, which is mainly for student loans, rose by less than $1 billion before seasonal adjustment.
The consumer credit report doesn't track debt secured by real estate, such as home equity lines of credit and home mortgages.