U.S. Consumer Confidence Rises to Highest in Almost 18 Years
(Bloomberg) -- Consumer confidence unexpectedly rose in August to the highest level since October 2000, according to a report Tuesday from the New York-based Conference Board, on improved assessments of the economy and the outlook.
Highlights of Consumer Confidence (August)
Confidence index increased to 133.4 (est. 126.6) from 127.9 in July; exceeded all forecasts in a Bloomberg survey of economists
Present conditions measure rose to 172.2, the highest since December 2000, from 166.1
Consumer expectations gauge climbed to a six-month high of 107.6 from 102.4
The report showed a greater share of respondents anticipate purchasing big-ticket items including homes, cars and major appliances within six months, which bodes well for the outlook for consumer spending. While a smaller share said that they expect employment to rise in coming months, more Americans were optimistic about pay gains.
The figures contrast with the University of Michigan's consumer sentiment index, which fell this month to the lowest in almost a year amid less favorable views on purchasing big-ticket items and persistent concerns about trade tensions.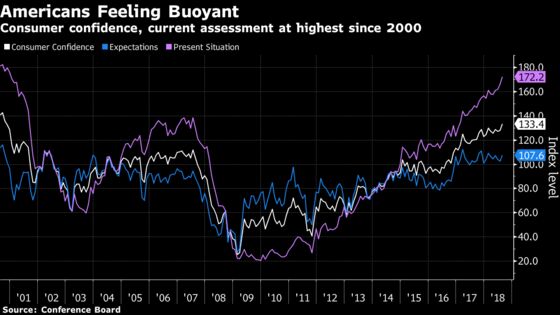 What Our Economists Say
Consumer confidence unexpectedly jumped in August to a cyclical high, suggesting that spending momentum may exceed current forecasts. The surge in August -- the confidence index reached the highest level since late 2000 -- came in well above consensus projections and stands in contrast to the decline in the University of Michigan survey.

-- Tim Mahedy and Carl Riccadonna, Bloomberg Economics

Read more for the full reaction note.
"These historically high confidence levels should continue to support healthy consumer spending in the near term," Lynn Franco, director of economic indicators at the Conference Board, said in a statement.
The share of consumers who said they expect better business conditions in next six months rose to 24.3 percent from 22.9 percent
Index of 12-month inflation expectations eased to 4.8 percent from the highest since 2016
Share of households who expect incomes to rise in next six months increased to 25.5 percent
, the highest since December 2000, from 20.4 percent
Share who said more jobs will be available in coming months eased to 21.7 percent from 22.6 percent