U.S. Consumer Confidence Cooled This Month From 18-Year High
(Bloomberg) -- U.S. consumer confidence fell in November for the first time in five months, cooling from an 18-year high, as optimism dimmed for business conditions and incomes.
The confidence index declined to 135.7, matching the median estimate of economists, from 137.9 in October, according to a report Tuesday from the New York-based Conference Board. The measure gauging Americans' views on present conditions rose to 172.7, while consumer expectations slipped to 111 from 115.1 and 12-month inflation expectations rose to 4.9 percent.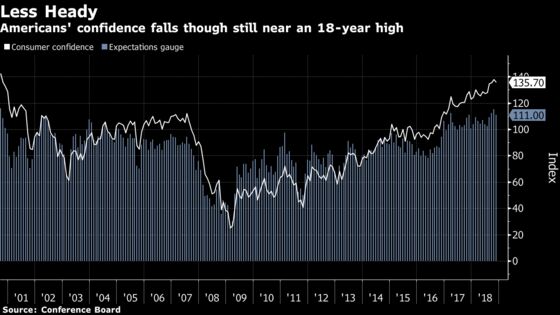 Recent stock-market declines are hitting some Americans' portfolios, while the trade war between the U.S. and China may be weighing on the outlook, with escalating tariffs likely to boost prices for goods. At the same time, a sturdy job market and tax cuts are still helping to underpin sentiment among consumers, whose spending accounts for about 70 percent of the U.S. economy.
The report follows several indicators last week that pointed to slowing economic growth: orders for business equipment missed forecasts for a third month, another index of consumer sentiment fell to a three-month low, and unemployment claims rose.
"If expectations soften further in the coming months, the pace of growth is likely to begin moderating," Lynn Franco, senior director of economic indicators at the Conference Board, said in a statement.
Illustrating the impact of the stock market's decline, the share of respondents in the Conference Board survey saying equity prices will increase over the next 12 months fell to 35 percent, the least since April, from 43.6 percent.
Federal Reserve Vice Chairman Richard Clarida, speaking Tuesday in New York, sounded optimistic on the economy and indicated the central bank is sticking to its plans for gradual interest-rate hikes as long as the economic data warrant more tightening.
The share of respondents saying business conditions will be better in six months fell to a five-month low of 22.5 percent while the share expecting higher incomes declined to a four-month low.
The labor differential -- which measures the gap between respondents saying jobs are plentiful and those who say they're hard to get -- rose to a fresh 17-year high, a sign the labor market is getting tighter and more divergent.
Buying plans showed slightly fewer consumers plan to purchase a car within six months while home-buying plans held steady; the share expecting to purchase major appliances rose to the highest level in seven months.
A separate report Tuesday showed that the S&P CoreLogic Case-Shiller 20-city index of property values grew in September at the slowest pace in almost two years, adding to signs that buyer interest is waning.