U.S.-China Trade Tensions Escalate, Stifling Recovery: EM Review
(Bloomberg) -- Emerging-market assets resumed declines as an escalation in trade clashes between the U.S. and China deterred risk-taking in an already fragile developing-market landscape.
The MSCI Emerging Markets Index of stocks fell 1.7 percent, the most since June, while a gauge tracking developing-economy currencies declined 0.5 percent. A Bloomberg Barclays index of EM local-currency government debt slipped 0.3 percent.
Highlights for the week ended Aug. 3: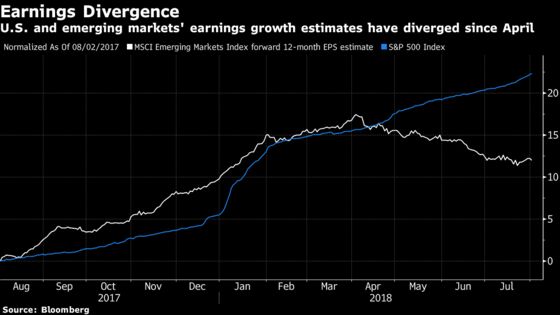 The Indian rupee was little changed; the Reserve Bank of India raised its benchmark repurchase rate to 6.5 percent from 6.25 percent, as expected by a majority of economists in Bloomberg survey

Governor Urjit Patel said he's seeking to maintain economic stability amid growing risks from global trade and currency tension

The Chinese yuan dropped for a seventh week while the Shanghai Composite Index fell 4.6 percent, the biggest weekly decline since February
South Korea's won dropped with the Kospi Index of stocks; some Bank of Korea board members stressed the need to raise rates sooner rather than later, according to minutes from the July 12 policy meeting

Consumer prices increased 1.5 percent in July from a year earlier, while exports climbed 6.2 percent after a revised 0.2 percent decline in June; the Nikkei South Korea PMI Manufacturing came in at 48.3 for July versus 49.8 for June
U.S. spy agencies are seeing signs North Korea is building new missiles

Indonesia's rupiah retreated; President Joko Widodo ordered ministers to explore all options to boost foreign-exchange earnings and contain a ballooning current-account deficit

Bank Indonesia will strengthen its monetary policy mix to improve the attractiveness of the local market and will stabilize the rupiah in line with fundamentals, said Governor Perry Warjiyo; the central bank will also unveil a new tool to gauge liquidity and boost its intervention effectiveness; this month's rate decision was rescheduled to Aug. 15 from Aug. 16
Gerindra Party chief Prabowo Subianto and former president Susilo Bambang Yudhoyono, who leads the Democrat Party, have agreed to form a coalition to contest next year's presidential election
Inflation accelerated to 3.18 percent year-on-year in July from 3.12 percent in June

Thailand's baht drew support from data that showed the current-account surplus widened to $4.1 billion in June from $958 million in May

Consumer prices rose 1.46 percent in July from a year earlier, faster than the 1.38 percent rate in June

The Philippine peso was Asia's best performer; Bangko Sentral ng Pilipinas "stands firm in its intent to take decisive and measured policy actions" to rein in inflation and bring it back to the 2 to 4 percent target band next year, Governor Nestor Espenilla said
Malaysia's ringgit extended a seven-week slump; officials are investigating whether the government of former Prime Minister Najib Razak used funds from a China-backed infrastructure program to help pay almost $700 million of debt owed by 1MDB, the Wall Street Journal reported
The Taiwan dollar declined; minutes of the Taiwan central bank's June 21 policy meeting showed some members said the currency impact on inflation should be a factor in rate decisions
The ruble fell as a bipartisan group of U.S. senators introduced legislation to impose new sanctions on Russia for interfering in U.S. elections, including penalties affecting the nation's sovereign debt and energy projects

Oleg Deripaska, co-founder of aluminum producer United Co Rusal, said U.S. demands for lifting sanctions on his businesses are unacceptable
Russia boosted oil production to levels not seen since it joined OPEC in a coordinated output cut, helping the group offset supply disruptions elsewhere

Turkey's central bank acknowledged it won't meet its 5 percent inflation target for three more years; Governor Murat Cetinkaya revised this year's inflation estimate to 13.4 percent from 8.4 percent, while raising projections for 2019 and 2020 to 9.3 percent and 6.7 percent, respectively

The country is seeking alternative sources of foreign funding, Treasury and Finance Minister Berat Albayrak said

South Africa's rand was the second-worst EM performer; the medium-term budget policy statement will be released Oct. 24, parliament said

The African National Congress decided to amend the nation's constitution to make it clearer under what conditions land can be expropriated without compensation, President Cyril Ramaphosa said
South Africa recorded a fourth straight monthly trade surplus in June as exports of precious metals and stones surged and imports declined

The Czech central bank raised its policy rate to 1.25 percent from 1 percent in its first back-to-back rate hike in 11 years
The Hungarian forint outperformed peers in eastern Europe as BMW said it would invest $1.2 billion in a plant in the country
Polish central bank policy maker Rafal Sura was quoted by PAP as saying he sees inflation averaging 1.7 percent to 1.8 percent this year and that interest rates are likely to remain at record lows until end-2019
The Mexican peso advanced a second week; the nation's central bank kept borrowing costs unchanged after the nation's currency rallied to a three-month high, saying that recent inflation shocks are transitory

The U.S. and Mexico are in the final stages of negotiating a deal on rules for cars sold under Nafta, one of the biggest sticking points in discussions to overhaul the trade agreement
Economic growth unexpectedly stalled in the second quarter, contracting 0.1 percent from the previous quarter in seasonally adjusted terms

Brazil's real climbed for a fifth straight week amid heavy inflows into stocks; Ibovespa stock index extended its six-week rally amid positive earnings from companies including Petrobras

The Workers' Party decided to give top priority to Luiz Inacio Lula da Silva's candidacy for the presidency before elections in October; The MDB Party approved Henrique De Campos Meirelles' presidential candidacy
Presidential candidate and former Sao Paulo Governor Geraldo Alckmin picked Senator Ana Amelia for his running mate; market-friendly Alckmin is still in third place in the presidential race, according to an opinion poll
Jair Bolsonaro, who leads in opinion polls that exclude the imprisoned Lula, said Brazil owed blacks no debt because of slavery and pledged to cut back affirmative action policies, while praising President Trump
The nation's long-term foreign currency debt rating was affirmed at BB- by Fitch

The Chilean peso was little changed; the latest manufacturing and retail sales data both confirm the country's economic recovery is well on track
Monday, Aug. 6
Indonesia
2Q GDP
China
2Q current-account balance
Taiwan
July foreign reserves
Romania
Monetary policy decision
Tuesday, Aug. 7
Philippines, Taiwan
July consumer price index
Taiwan, Chile
July trade data
China, Indonesia
July foreign reserves
South Africa
June manufacturing production
Argentina
Monetary policy decision
Wednesday, Aug. 8
Thailand
Monetary policy decision
China
July trade data
Philippines
June trade data
Brazil
July inflation IPCA 
Hungary
Central bank minutes
Thursday, Aug. 9
Philippines 
Monetary policy decision, 2Q GDP
China, Mexico
July consumer price index
Peru
Monetary policy decision
Friday, Aug. 10
Indonesia
2Q current-account balance
Turkey
June current-account balance
Brazil 
June retail sales
Malaysia, India, Mexico
June industrial production
Russia
June trade data