U.S.-China Talks Highlight Deep Divide Before Trump-Xi Meeting
(Bloomberg) -- The U.S. secretaries of state and defense met with their Chinese counterparts for an annual strategy session in Washington on Friday, with both sides highlighting deep differences on diplomacy and security weeks before Presidents Donald Trump and Xi Jinping plan to meet at a summit in Argentina.
Secretary of State Michael Pompeo said at a joint press conference at the State Department that he'd been "forthright in addressing significant differences between our nations," while also emphasizing that cooperation between the world's two biggest economies remains essential.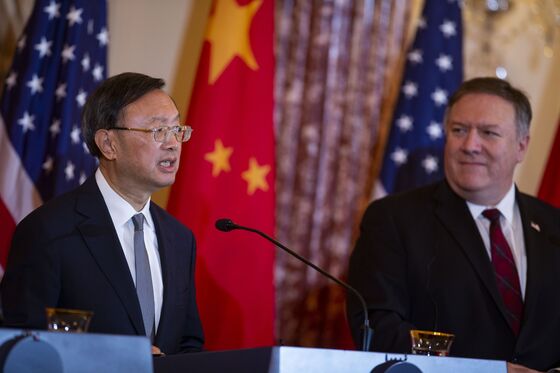 Pompeo said the Trump administration hopes to work with China to reduce imports of Iranian oil now that the U.S. is reimposing sanctions after Trump's withdrawal from the 2015 nuclear deal. Yang Jiechi, the head of the foreign affairs committee of the Communist Party's Politburo, reiterated the Chinese belief that the original agreement between Iran and six world powers still must be abided by.
While Pompeo called the meeting an "incredibly constructive conversation," he said that he pressed China on its militarization of the South China Sea and raised concern about China's treatment of its Muslim minority.
Yang warned the U.S. against interfering in China's internal affairs and said his nation needed security infrastructure in the South China Sea to protect civilians and respond to "threats from the outside."
Mattis said the two sides agreed to set up a military-to-military deconfliction and crisis communication network, and his counterpart Wei Fenghe said the countries will hold a joint military exercise on maritime search and rescue by the end of the year.
Wei said the bilateral military relationship is moving forward "despite some problems"
Mattis said the two sides discussed the importance of military and civilian vessels and aircraft operating in a safe and professional way, and in accordance with international law.