U.K. to Wait Until 2030 to Reform to Flawed Inflation Gauge
(Bloomberg) -- U.K. inflation-linked debt jumped after the government said it would delay changes to a flawed price gauge until 2030, giving investors more time to benefit from higher returns.
The change to the Retail Price Index will ultimately reduce returns in a market worth about half a trillion pounds, because it's tended to overstate inflation. But the 2030 date was better than some had feared after the government consulted on proposals to act as soon as 2025.
The news put linkers on track for their best day relative to normal U.K. debt since 2017, as measured by breakeven rates.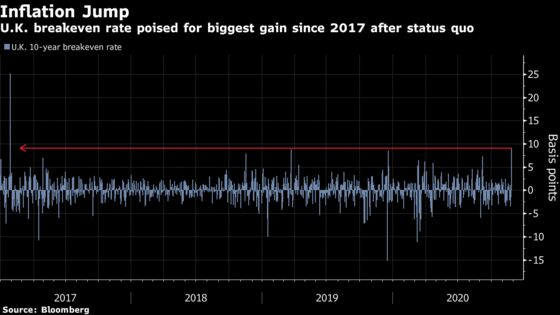 "As the market had priced some possibility of an earlier switch to a lower measure, the breakeven jumped," said Peter Schaffrik, global strategist at RBC Europe Limited.
The decision to wait reflects the government's concern about redemption clauses in specific gilts that mature that year. While about 70% of linkers aren't due until after 2030, the government said it's not going to offer any compensation to holders of that debt.
The U.K. Statistics Authority said it regretted the government's decision not to act sooner, arguing that RPI isn't fit for purpose.
The gauge is used as a reference for linkers and a host of other aspects of British life such as student debt repayments and rail fare increases. It's been subject to years of criticism and multiple calls for action from lawmakers and the central bank.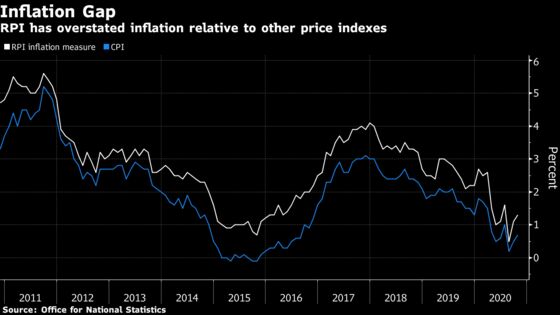 Under the change that comes into effect a decade from now, the government will apply the methods and data used to calculate another gauge, the Consumer Price Index including housing costs, to RPI.
The longstanding problems with RPI relate to its methodology that overstated inflation compared with CPI. The gap has averaged about 80 basis points over the past decade, meaning a reform that aligns RPI will also reduce returns on inflation-linked bonds.
Read More:
U.K. Economy on Pace for Biggest Contraction in 300 Years: Chart