U.K. Wages Rise Most Since 2008 Amid Tight Labor Market
(Bloomberg) -- U.K. wage growth accelerated to a near 10-year high, backing the Bank of England's view that there is now no spare capacity in the labor market.
Average earnings excluding bonuses rose 3.2 percent in the three months through September from a year earlier, the most since December 2008, the Office for National Statistics said Tuesday. Unemployment unexpectedly rose from a 43-year low to 4.1 percent.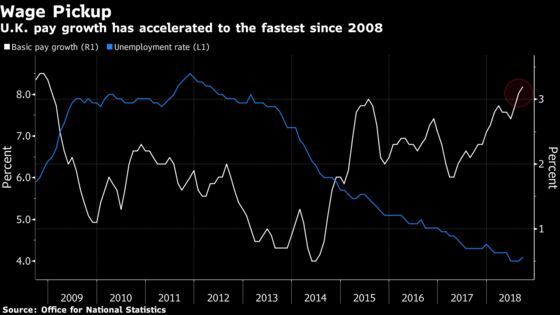 The pay figure was higher than the 3.1 percent rate predicted by economists in a Bloomberg survey
Upward pressure on wages is a sign of domestically generated inflation. With productivity subdued (output per hour rose an annual 0.1 percent in the third quarter), BOE officials say gradual rate hikes will be needed
Pay is continuing to outpace prices, a relief for households squeezed by the inflation surge following the Brexit vote, and a further pickup is forecast. But real wages are still below their pre-crisis levels and the Resolution Foundation says it will take until 2024 to return to that point
Job creation has helped to support consumer spending. The number of people in work rose 23,000 to a record 32.4 million, leaving the employment rate at 75.5 percent. Unemployment rose 21,000 amid a jump in participation
Prime Minister Theresa May will welcome the figures as a sign of economic strength as she faces intense pressure over Brexit. Employment is being driven by full-time employee jobs, as opposed to less secure part-time self-employment
The pound stayed higher following the figures. It was at $1.2901 as of 9:34 a.m. London time, up 0.4 percent on the day
What Our Economists Say:
"We still think the BOE will wait until the terms of the country's departure from the EU are known before altering policy. But assuming there's a deal, we expect the central bank to move quickly and lift rates in May. And a second hike in 2019 will probably be needed to keep inflation in check."
-- Dan Hanson, Bloomberg Economics
Brexit-related labor shortages are becoming evident with 132,000 fewer European Union nationals working in Britain than a year earlier. The record decline was driven by citizens of the eight countries that joined the EU in 2004 including Poland and Hungary
In a sign of a tight labor market, the number of hours worked climbed by 1 percent in the third quarter. Vacancies hit a record high in the three months through October
Pay is rising fastest in the private sector (3.3 percent versus 2.8 percent for government workers) but easing of austerity should see public sector start to catch up. Wage growth including bonuses accelerated to 3 percent