U.K. Services Unexpectedly Weaken to Worst Level Since July 2016
(Bloomberg) -- Growth in the U.K.'s dominant services industry unexpectedly slowed to the weakest since the aftermath of the Brexit vote and came perilously close to contraction.
IHS Markit's Purchasing Managers Index for the industry fell to 50.4 last month, well below economists' forecasts for a reading of 52.5 and just above the key 50 level that indicates expansion.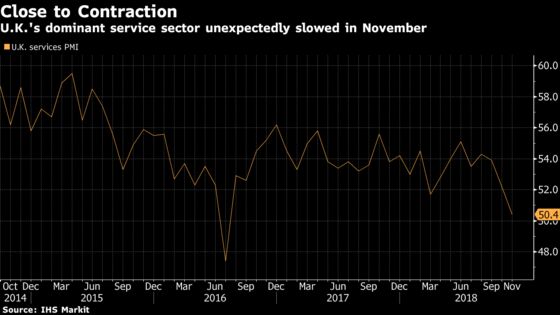 The surveys for the past two months indicate overall economic growth of 0.1 percent in the fourth quarter, Markit said. The pound was little changed after the data, at $1.2733 as of 9:39 a.m. London time.
"A contraction of service sector business activity in November was only avoided by firms working through backorders to an extent not exceeded since 2009," said Chris Williamson, chief business economist at Markit. "Unless demand revives, a slide into economic decline at the turn of the year is a distinct possibility."
Gauges for new business and optimism were also the lowest since July 2016, with firms complaining that consumer spending was subdued and Brexit uncertainty was holding back investment decisions.
The report comes as Parliament begins debating Theresa May's Brexit proposal, which many expect to be rejected. The Bank of England last week laid out dire scenarios of what could happen to the economy if the U.K. crashes out the European Union without a deal or transition period.
New business growth slowed for a third month running, and also came close to shrinking in November.
With a lack of new work coming in, pressure on capacity fell. Firms reported the joint-sharpest drop in work-in- hand (but not yet completed) since September 2009.
Softer demand and higher salaries also weighed on hiring plans, with employment growth dropping to a four-month low.
Companies' lower confidence was attributed to Brexit- related uncertainty, while they also expressed worries about the outlook for investment and a lack of skilled staff.
The report follows more upbeat readings from the manufacturing and construction industries this week, which both came in stronger than economist forecasts.
BOE policy makers announce their next interest rate decision on Dec. 20.