U.K. Economy Enjoys Bigger-Than-Expected Election Bounce
The U.K. economy's bounce since the general election is proving bigger than initially estimated, justifying the Bank of England's decision to hold fire last month on monetary easing.
IHS Markit's composite Purchasing Manager's Index jumped to a 16-month high in January, beating an initial estimate. The dominant services sector also improved, and sentiment rose to the strongest since 2015. Sterling gained 0.3% to $1.3069 as of 9:55 a.m. in London.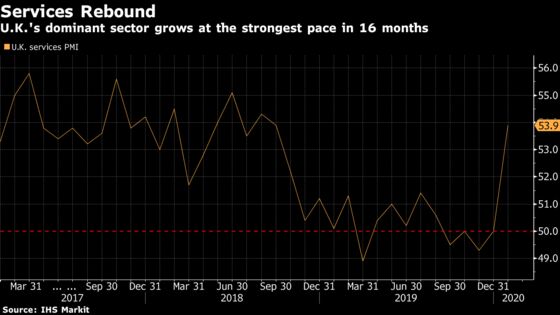 The reading suggests the economy is on track for 0.2% growth this quarter. That would be an improvement on late 2019, when heightened political and Brexit uncertainty took a toll. A number of surveys have pointed to an improvement in early 2020 in the wake of Prime Minister Boris Johnson's emphatic victory in the December election.
The key question for BOE policy makers is whether the so-called "Boris bounce" will be maintained. While seven of the nine-member Monetary Policy Committee voted to keep the key interest rate at 0.75% in January, some have hinted it may not take much for them to change their view.
At the same time, Governor Mark Carney has been clear that it's too soon for a definitive assessment. It's "less of a case of so far so good, than so far, good enough," he told reporters on Jan. 31.
It's "another encouraging sign that the post-election recovery in the economy is gathering momentum," said Samuel Tombs, an economist at Pantheon Macroeconomics in London. "For now at least, the available post-election data suggest that the MPC will not need to provide extra support to the economy."
Money market traders no longer expect the Bank of England to ease rates by a full 25 basis points at any point in the future, with the odds of easing in June 2021 at 84%, compared with 104% on Tuesday.
Respondents to the PMI survey said that there's been a shift away from delayed decision making since the election, and higher levels of consumer spending and business investment led to a rise in new work.
With most of the data collected before Jan. 23, the survey didn't show any impact from the coronavirus outbreak. Disruptions to global supply chains and international travel could present risks to the British economy and its trading partners in the coming months, IHS Markit said.