U.K. Services Growth Slumps as Brexit Hurts Business Optimism
(Bloomberg) -- The U.K. economy kicked off the fourth quarter on a disappointing note as Brexit concerns pushed growth in services to a seven-month low.
IHS Markit's index for the sector fell more than economists expected last month, recording the lowest reading since March when the nation was battered with bad weather. New business growth and optimism over the outlook were the weakest since July 2016 -- the immediate aftermath of the Brexit vote.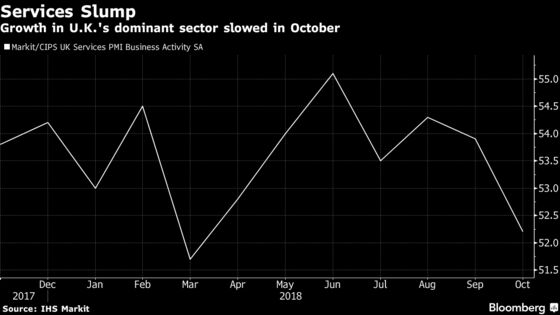 The pound was little changed after the data, trading at $1.2992 as of 9:42 a.m. London time.
A similar report for the manufacturing sector last week also showed a pronounced slowdown. The gauges are consistent with quarterly growth of around 0.2 percent, setting the scene for the expansion to "weaken sharply," at the end of 2018, HIS Markit said.
The reading comes as the U.K. remains deadlocked in talks with the European Union over its departure from the bloc. Bank of England Governor Mark Carney said last week that businesses were more wary than consumers about Brexit and were "understandably" delaying investment as a result.
The slowdown also aligns with weakness in other major economies though, as trade disputes erode confidence. The euro-zone expansion cooled last quarter, with Italy stagnating, and Chinese manufacturing is on the verge of a contraction. Economists expect U.S. growth to moderate in 2019.
The "numbers bring mounting evidence that Brexit worries are taking an increasing toll," said Chris Williamson, chief business economist at IHS Markit. "The economy is facing other headwinds, including a broader global slowdown, trade wars, heightened geopolitical uncertainty and tightening financial-market conditions."
Markit's index for the services sector fell to 52.2 in October, down from 53.9 the previous month and below the 53.3 forecast by economists.
Despite the slowing economy, the BOE has its eye on more interest-rate increases. It has hiked twice since November last year and says more moves are necessary in coming years to contain inflation, though Carney stressed that everything depends on the outcome of Brexit talks.
"It remains unclear as to the extent to which Brexit worries are exacerbating or obfuscating a more broad-based slowing of the economy," Williamson said. This "would have important implications for policy making."