U.K. Living Standards Fell for Self-Employed, Minorities During Covid, Study Finds
(Bloomberg) -- U.K. living standards held up during the pandemic thanks to unprecedented government intervention, but many including the self-employed and ethnic minorities are facing enduring hardship, according to the Institute for Fiscal Studies.
Unemployment, real earnings growth, unpaid bills and reliance on food banks were all at pre-pandemic levels in early 2021, an "astonishing outcome" given the scale of the disruption, the research group said in a report published Thursday.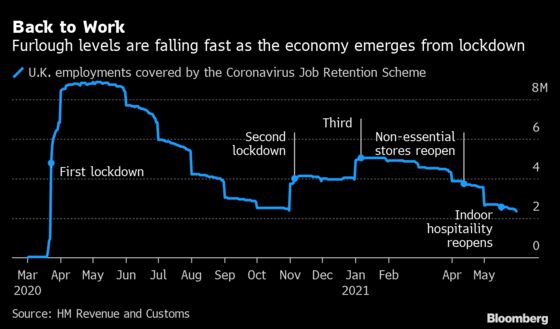 However, the analysis highlighted "stark" differences between barely-affected higher-income households and those on low-incomes.
People who were already suffering in-work poverty when the pandemic struck were among the hardest hit, highlighting the risks facing some of the most vulnerable as Chancellor Rishi Sunak prepares to end pandemic wage subsidies and welfare support in the coming months.
Self-employed people who lost all work saw a sharp worsening in deprivation a year ago which has only partially receded since; 36% of those working for themselves failed to qualify for state job support
One in 10 poor households were behind on their bills, slightly above pre-pandemic levels, and 13% expect their financial situation to get worse in the coming months
The share of Pakistani and Bangladeshi adults in households where all adults are either jobless or furloughed remained 10 percentage points higher than before Covid
"How fast and to what extent these groups recover as the economy reopens will be a key determinant of the pandemic's legacy," said IFS research economist Tom Wernham, who helped write the report.