U.K.'s Lowest-Paid Struggle Most to Find New Work in Crisis
(Bloomberg) -- Lower-paid workers who have lost their jobs in the pandemic are finding it disproportionally hard to find new ones, underscoring the risks of long-term economic scarring as a result of the crisis.
Research by the Joseph Rowntree Foundation, shared exclusively with Bloomberg, showed workers near the poverty line are more likely to have become unemployed during the crisis, while U.K. job vacancies are skewed toward higher-paid jobs.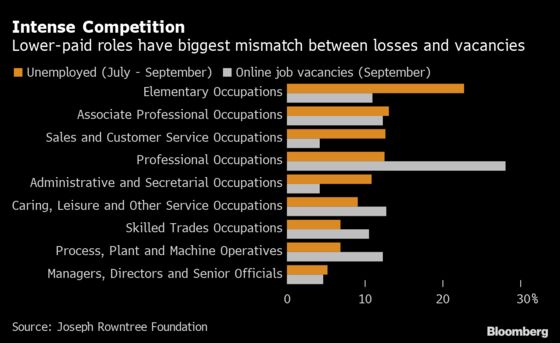 That leaves competition for lower-skilled roles particularly intense, worsening the hardship faced by those out of work and increasing the chance of longer-term unemployment.
The findings add to pressure on the Treasury to extend aid for the labor market in the March 3 budget, as most programs are due to end soon. The government's response to the crisis has been successful so far. The flagship furlough program that keeps employees on company books while the state pays their wages has kept joblessness contained at 5% -- well below predictions at the start of the pandemic.
"My real worry now is that" ending subsidies will "lead to a big spike up in unemployment," said Rebecca McDonald, senior economist at the JRF.
The report, based on data from the Institute of Employment Studies and Adzuna, showed competition for jobs has been fiercest in sales and customer service roles and so-called "elementary" occupations such as cleaners, security guards and manual laborers. Those occupations accounted for 26% of those unemployed as of September 2020, but only 15% of job vacancies. They're also the group most likely to be struggling to make ends meet even if they have a job.
"The prospect of longer-term unemployment due to competition for jobs will be extremely challenging," the JRF report said. "Harm from time spent unemployed can be greater for this cohort of workers."