U.K. Retail Sales Unexpectedly Fall in Poor Start to Quarter
(Bloomberg) -- U.K. retailers made a faltering start to the fourth quarter as sales unexpectedly fell for a second month in October.
The volume of goods sold in stores and online declined 0.5 percent from September, the Office for National Statistics said Thursday. The median forecast in a Bloomberg survey was for a 0.2 percent gain.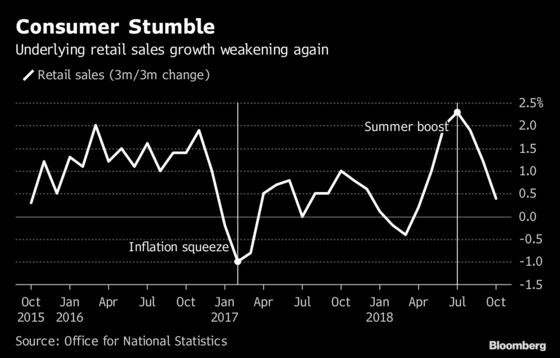 Decline was largest in seven months and followed a 0.4 percent drop in September
Retail sales excluding auto fuel fell 0.4 percent. Sales of household goods dropped 3 percent, clothing sales were down 1 percent and sales at "other" stores, a category that includes pharmacies, booksellers and computer shops, fell 1.4 percent
Mild weather hit winter clothing sales and household goods had done well in previous two months. Decline in sales was partly offset by spending at department stores and food sales, which rose 0.4 percent in a rebound from a weak September
The pressure on consumers is easing, with pay growth now running comfortably ahead of inflation. But real pay remains well below its level before the financial crisis and fears that Britain could crash out of the European Union without a deal are mounting
Internet retailing is taking a heavy toll on traditional bricks-and-mortar stores. The amount of money spent online has risen sixfold over the past decade and accounted for 18 percent of total sales in October
The sales figures were overshadowed by the resignation Thursday of Brexit Secretary Dominic Raab in protest at Prime Minister Theresa May's deal to leave the EU. The pound was at $1.2802 as of 9:39 a.m. in London, down almost 1.5 percent on the day
Retail sales were 3 percent higher in three months through October than a year earlier; up 2.2 percent year-on-year in October. Survey was carried out between Sept. 30 and Oct. 27
Sales in September fell 0.4 percent instead of the 0.8 percent previously reported. The revision has no impact on GDP, with sales rising an unrevised 1.2 percent in the third quarter as hot weather encouraged consumers to spend in the early part of the period
Read about sales at Next Plc