U.K. Retail Sales Rise, Giving Some Good News to Bruised Sector
(Bloomberg) -- U.K. retail sales rose more than economists forecast, giving a battered sector a brief respite from a litany of bad news.
Sales increased 2% in July from June, the Office for National Statistics said Friday. Non-food sales jumped 10%, though they remain below their pre-virus level. Total volumes, including fuel, climbed above their pre-pandemic levels.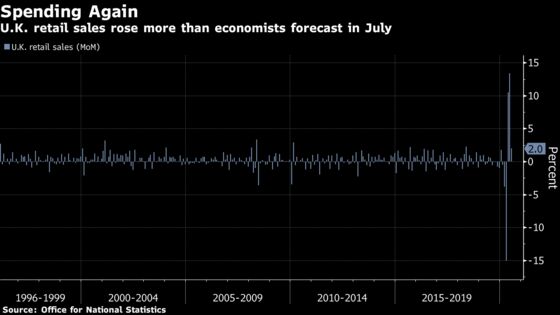 The increase follows a string of bad news in the sector, including store closures and job losses. Lockdowns, restrictions on travel and consumer worries about the economy and their job security are taking a huge toll on spending. Marks & Spencer Group Plc this week announced 7,000 job cuts.
The retail figures follow a GfK survey showing household confidence stuck in the doldrums, partly on job worries.
The government began winding down its wage subsidy-program for furloughed workers this month, leading to warnings that millions of Britons risk losing their jobs unless Chancellor of the Exchequer Rishi Sunak extends support beyond October -- a demand he has so far resisted.
"Employment is now the big issue because the pandemic has ended years of job security," said GfK's client strategy director, Joe Staton. Although consumers were slightly more confident about their personal finances, "this could change quickly when furlough ends and the inevitable redundancies start," he warned.