U.K. Retail Sales Extend Worst Run on Record 
British consumers shunned stores during the crucial Christmas trading period, confounding predictions of a rebound in spending and stoking speculation that the Bank of England will cut interest rates this month.
The pound fell after the report, the latest in a string of disappointing U.K. data in recent days, and traders moved to price in a 75% chance of a cut at the BOE's Jan. 30 meeting.
The volume of goods sold in stores and online fell 0.6% in December, confounding expectations of a 0.6% increase. Sales excluding auto fuel dropped 0.8%. The period included Black Friday and Cyber Monday, when price cuts would be expected to attract shoppers to stores.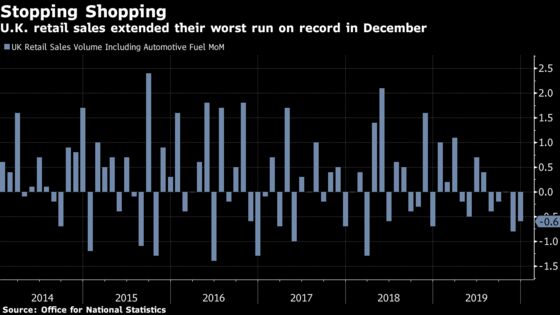 Weak growth and inflation figures this week have added to expectations, fueled by dovish comments from BOE Governor Mark Carney and other policy makers, that a rate cut could be imminent. Crucially, the sales survey was taken between Nov. 24 and Dec. 28, meaning much of it encompassed the period following Boris Johnson's commanding win in the Dec. 12 general election -- undermining speculation the economy will see a bounce amid reduced political uncertainty.
What Our Economists Say:

"Whether the Bank of England cuts interest rates on Jan. 30 now hangs in the balance and makes the PMI survey next week a make-or-break data point."

-- Niraj Shah, Bloomberg Economics. For the full
U.K. REACT, click here
Retail sales have fallen or stagnated in each of the past five months, the longest run without growth since records began in 1996, the Office for National Statistics said Friday. A 1% decline in the fourth quarter was the largest since the start of 2017 and weighed on the economy.
The pound erased its earlier gains after the data, to trade down 0.1% at $1.3063 as of 10:10 a.m. London time.
Pound Falls After Weak U.K. Retail Boosts Prospect of Rate Cut
Stores widely reported having to offer deep discounts to beat off competition and lure customers in the runup to Christmas. Prices as measured by the retail sales deflator fell 0.6% on the month.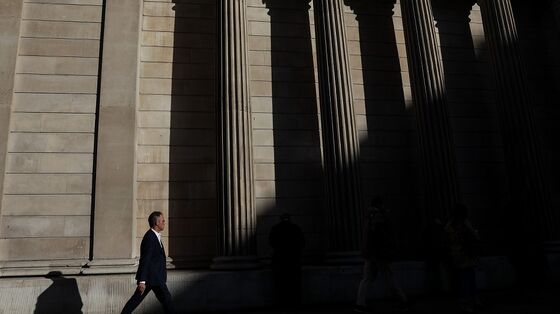 That's hit stores from Marks & Spencer Group Plc to John Lewis Partnership Plc, while the British Retail Consortium described 2019 as the worst year on record for the sector with revenue down on 2018. Retailers have underperformed the U.K. market as a whole this year.
Sales in December fell across the board, with non-food sales declining 0.9% and food sales dropping 1.3%, the most since December 2016. Petrol stations and online retailers had a better month.
There were also sweeping declines during the quarter, with clothing and footwear down 2.3% and non-store retailing falling 3.2%.
With some BOE officials indicating signs of a post-election recovery may be enough to stave off a cut, the most high-profile figures before the Jan. 30 decision are now the Purchasing Managers Indexes due to be released next Friday.