U.K. Retail Sales Drop With 'Stark Slowdown' for Food Stores
(Bloomberg) -- U.K. retail sales fell more than economists forecast last month as food spending slumped the most in almost three years.
Overall sales dropped 0.8 percent from August, compared with a median estimate of a 0.4 percent decline in a Bloomberg survey, according to data from the Office for National Statistics in London. Excluding auto fuel, sales also fell 0.8 percent.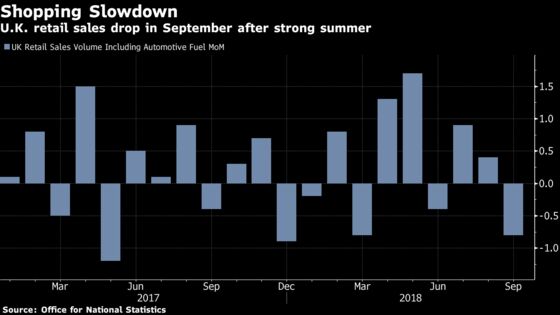 The drop comes after a strong summer for U.K. retailers as the hot weather encouraged Britons to splash out. Food store sales tumbled 1.5 percent last month -- the most since October 2015 -- in what the ONS called a "stark slowdown." The pound was little changed after the data, trading at $1.3111 as of 9:35 a.m. London time.
Still, the longer term trend is more positive. Overall retail sales climbed an annual 1.2 percent in the third quarter, driven by jewelry and watches and web-based stores. In September alone, spending online jumped 11 percent from a year earlier, the ONS said.
The Bank of England raised interest rates on Aug. 2 to the highest level in almost a decade on concern that domestic inflation pressures are building. A report yesterday showed consumer price growth slowed more than expected last month, to 2.4 percent, providing further evidence that a pay squeeze on consumers is abating.
From a year ago, retail sales increased 3 percent in September. Excluding fuel, annual growth was 3.2 percent.
The sector contributed 0.06 percentage points to third quarter gross domestic product, the ONS said.