Royal Wedding and Sunshine Give U.K. Retailers a Boost in May
(Bloomberg) -- U.K. retail sales jumped more than economists forecast in May as warm weather and the Royal Wedding gave stores a much needed boost.
Sales climbed 1.3 percent from April, compared with a median estimate of a 0.5 percent gain in a Bloomberg survey. The increase was led by food and clothing, according to data from the Office for National Statistics in London. Excluding auto fuel, sales rose 1.3 percent.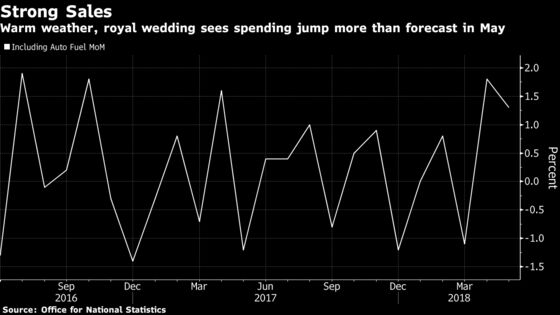 A scorching early May bank holiday and above-average temperatures throughout the month prompted Britons to splash the cash, delivering a welcome boost to beleaguered retailers after snowstorms hit sales in the first quarter and brought economic growth to a near standstill. Sales were further boosted by the May 19 wedding of Prince Harry which coincided with soccer's FA Cup Final.
The pound jumped 0.5 percent after the data, climbing to $1.3438 as of 9:42 a.m. London time.
From a year ago, retail sales increased 3.9 percent in May, well above the 2.4 percent forecast. Excluding fuel, annual growth was 4.4 percent.
The figures suggest the bounceback from weaker figures at the start of the year is continuing as households emerge from a year of shrinking real incomes after the vote to leave the European Union battered the pound and stoked inflation.
Over three months, sales gained 0.9 percent from the previous period, the ONS said. Retail spending is almost certain to contribute to the second quarter, barring a record slump in June.
That supports the Bank of England's view that the near- stagnation at the start of the year was largely down to bad weather. In the first quarter, the economy grew just 0.1 percent, but the BOE expects that to be revised up and for this quarter to see a 0.4 percent expansion. While policy makers held off raising interest rates last month as a precaution, they are expected to act later this year. 
Despite the better data in May, the list of casualties on the U.K. high street has continued to grow. Discount chain Poundworld Retail Ltd. filed for protection from creditors this month, while department-store chain House of Fraser Ltd. said it is seeking to shut 31 of its 59 outlets to stay afloat.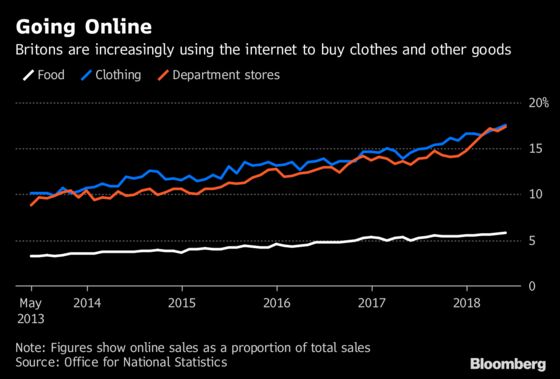 Traditional bricks-and-mortar stores are facing increasing competition from the internet. Spending jumped 20 percent from a year earlier, with the proportion of food and clothes sales occurring online reaching new records.