U.K. Price Tag for Pandemic Job Support Tops £30 Billion 
The cost of the U.K. government's programs for supporting jobs accelerated last week, and employers furloughed more workers in a sign of the economy's struggle to recover from the pandemic crisis.
Companies added 100,000 jobs to the furlough plan, taking it to 9.2 million employees, and the price tag climbed to 22.9 billion pounds ($28.5 billion) from 20.8 billion pounds a week earlier.
That's the biggest spending increase since the start of June, though the cost of the program tends to rise later in the month as more workers hit their pay day.
A separate program to support self-employed workers held steady at 2.6 million claims and 7.6 billion pounds.
Plan
Usage
Cost (Pounds)
Coronavirus Job Retention

Scheme

9.2 million jobs
22.9 billion
Self-employment Income Support
2.6 million claims
7.6 billion
Bounce Back Loan

Scheme

921,229

loans
28.09 billion
Coronavirus Business Interruption Loan

Scheme

50,482

loans
10.53 billion
Coronavirus Large Business Interruption Loan

Scheme

315 loans
2.1 billion
In addition, the government has paid out more than 40 billion pounds to almost 1 million companies across its three lending programs to keep businesses afloat.
Separate figures from the Department for Work and Pensions showed the number of people beginning a claim for Universal Credit welfare payments continuing to fall, with the weekly total now running well below 100,000. Declarations topped 700,000 in the week after the formal lockdown began.
Since March 16, when Britons were urged to avoid non-essential travel and contact, almost 3.2 million individuals have filed for assistance.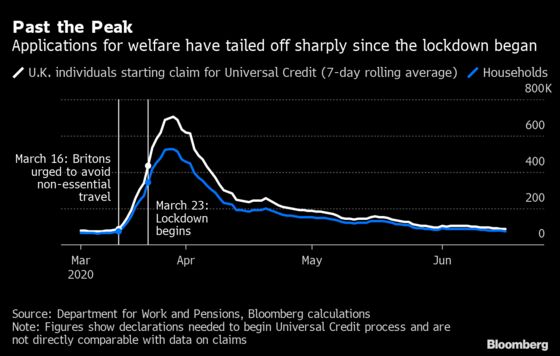 While Prime Minister Boris Johnson has started easing parts of the lockdown that's been in place since March, companies still face subdued demand, and fears remain that some of the damage to the economy will be permanent.
A survey published Tuesday showed the economic contraction slowing this month and manufacturing starting to rebound, though businesses still see a highly uncertain future.