U.K. Posts Record Budget Surplus as Fitch Threatens Ratings Cut
(Bloomberg) -- Britain posted a record budget surplus last month, providing a welcome boost for Chancellor of the Exchequer Philip Hammond in the wake of a threatened credit-rating downgrade over Brexit.
January normally sees revenue exceed spending as taxpayers rush to beat a month-end deadline to settle self-assessed liabilities. This year the surplus was 14.9 billion pounds ($19 billion), the highest for any month since records began in 1993 and well above forecasts, Office for National Statistics figures Thursday show.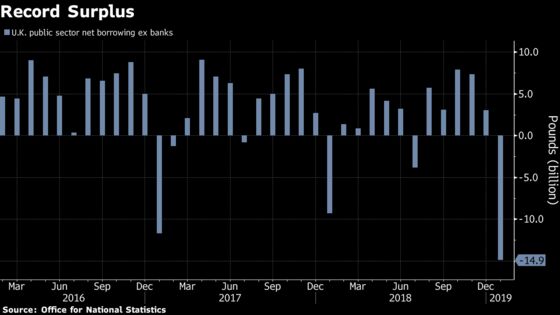 Almost a decade of austerity has seen borrowing fall sharply since the financial crisis, and the deficit in the first 10 months of this fiscal year was 47 percent lower than in the same period of 2017-18.
It leaves the full-year shortfall on course to come in at just over 22 billion pounds, below the 25.5 billion pounds forecast by the Office for Budget Responsibility in October.
But the risks to the outlook were highlighted late Wednesday when Fitch put the U.K. on negative watch, citing the possibility that the country crashes out of the European Union on March 29.
Thursday's figures provide the last snapshot of the government books before the mid-March Spring Statement, when the OBR will update its forecasts against a backdrop of heightened Brexit uncertainty and slowing economic growth.
With the country already forecast to be borrowing around 20 billion pounds in 2023-24 even if a no-deal Brexit is avoided, there is pressure on Hammond to abandon his commitment to erasing the deficit by the middle of the decade as demands grow for more spending on public services.
Revenue in January surged 9.8 percent from a year earlier, as record employment boosted income tax and value-added tax benefited from resilient consumer spending. Self-assessed income tax, which reflects earnings in the year to April 2018, rose by 15 percent.
Government spending including net investment climbed 3 percent. Debt-interest costs fell 17 percent, possibly reflecting the impact of lower inflation on index-linked bond payments.
Underlying government debt fell to 1.6 trillion pounds, or 74 percent of gross domestic product, the lowest share of the economy since May 2012.