U.K. Mortgage Approvals Surge to 13-Year High During Lockdown
(Bloomberg) -- U.K. mortgage approvals reached the highest since 2007 in November as housing continued to boom in spite of a broader economic downturn.
The housing market is surging largely because of a tax cut on house purchases that is worth as much as 15,000 pounds ($20,000) to buyers. That's pushed prices higher in a nation where demand has outstripped supply for decades, while measures to control the pandemic have also led to a change in working habits, boosting interest in larger properties and those outside of city centers.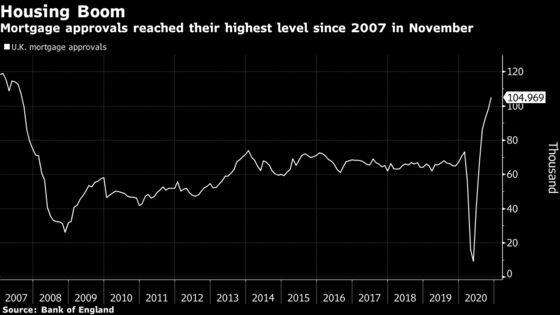 The jump also reflects pent-up demand from the first lockdown, when the market was largely shuttered and mortgage approvals collapsed. The total for the first 11 months of 2020 now stands at just over 715,000, just shy of the levels reached in 2018 and 2019.
However, analysts expect the housing market to slow this year, partly when the tax break expires in March. It may also be harmed by rising unemployment and the prospect of tighter restrictions to combat a resurgent coronavirus.
Lenders approved 104,969 loans in November, compared with a revised 98,338 in October, the Bank of England said Monday.
Meanwhile, consumers repaid a net 1.54 billion pounds of debt as restaurants, bars and and non-essential retailers close were closed in most of the country, curbing spending opportunities. Households deposits surged by almost 18 billion pounds, potentially providing fuel for consumer spending once restrictions are lifted.
A separate report showed growth in the U.K.'s manufacturing industry grew slightly faster than expected in December. IHS Markit's manufacturing PMI index reached highest since 2017 amid stockpiling before the end of the Brexit transition period.