U.K. Millennials Worse Off Than People Born in the 1970s
(Bloomberg) -- Britons in their 30s are worse off than those born a decade earlier, with no improvement in living standards and falling rates of home ownership.
The analysis from the Institute for Fiscal Studies illustrates the extent to which generational progress has ground to a halt amid wage stagnation and soaring house prices.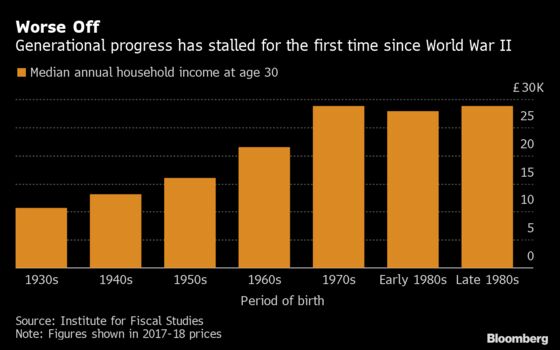 For decades there has been an assumption that each generation will enjoy higher living standards than the one before them. That's the case for people now in their early 40s, whose incomes are double those of people born in the 1930s at the same age. But for millennials the rule no longer applies.
According to the IFS, people in their early 30s are no better off than those born in the 1970s were at the same age -- the first time progress has stalled since World War II. This partly reflects the damaging effect of the financial crisis on average incomes.
And as wages faltered, house prices surged, enriching those who already owned their homes but making it hard for young people to get a foot on the housing ladder. Home ownership at age 30 has fallen from 60% for those born in the 1960s to 40% for those 20 years younger, according to the IFS.
But the picture for millennials is not universally gloomy, said the IFS. New laws mean that more young people are now enrolled in pension plans, and they stand to inherit the wealth accumulated by their parents, though it warned that this risks deepening the divide between rich and poor of the same age.
"It is people with wealthier parents, who are on average wealthier themselves, who are most likely to expect to receive a significant inheritance later in life," wrote IFS economist Jonathan Cribb. "This is a source of wealth that those with poorer parents will typically not get to enjoy. This highlights how an interest in inequality across the generations should not make us forget the inequalities that exist within the generations."