U.K. Jobless Claims Rise in Glimpse of Losses to Come
(Bloomberg) -- U.K. jobless claims increased in March and the number of people seeking welfare support during the lockdown topped the 1.5 million-mark, highlighting the growing financial pressure on households from the coronavirus pandemic.
Jobless claims rose 12,200 from February, taking the rate to a six-year high of 3.5%, the Office for National Statistics said Tuesday. Separate figures showed the Department for Work and Pensions is on average receiving five times the number of claims for Universal Credit benefits than it would it a normal week.
The DWP figures don't necessarily translate into a one-for-one increase in unemployment, since people can also claim for the benefit if they see a drop in income. The figure was also up only marginally on the 1.4 million reported last week.
However, there is little doubt that unemployment is set to keep rising after the government extended the lockdown for at least three more weeks, ensuring that much economic activity will remain on hold. Economic output could shrink 35% this quarter, according to the Office for Budget Responsibility, the country's fiscal watchdog.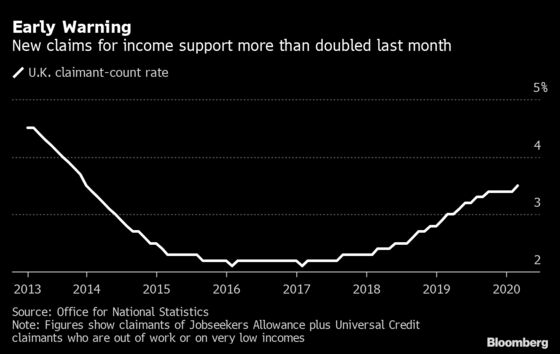 A picture of mounting job losses is emerging across the world. More than 5 million Americans filed for unemployment benefits in the week ended April 11, bringing the total in the month since the coronavirus pandemic throttled the U.S. economy to 22 million and effectively erasing a decade worth of job creation.
In the U.K, the claimant-count was taken on March 12, before Prime Minister Boris Johnson urged people to stay at home in an attempt to stop the spread of the virus. Some firms will have already started to feel the economic effect of the pandemic, however.
A further sign of weakness came in real-time information based on tax records. A flash estimate for March showed the number of people in paid employment fell the most in over four years. The figure declined almost 18,000 from February, a drop of 0.06%.
The International Labor Organization jobless rate was 4% in the three months through February. That may rise to 10% after the pandemic, the fiscal watchdog said.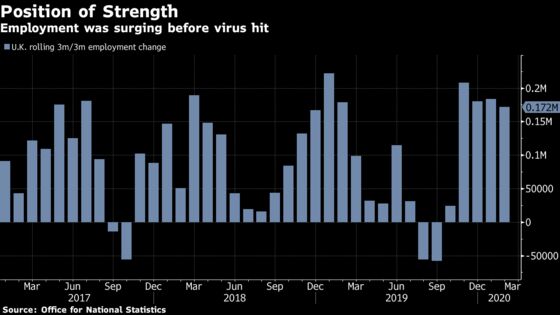 Wage growth slipped to 2.8% in the December-February period, with the figure excluding bonuses dipping to 2.9%. Both were the lowest since mid-2018. But employment rose to a record, suggesting the labor market was strengthening before the virus took hold.