U.K. Inflation Miss Adds a Little Doubt to BOE August Rate Hike
(Bloomberg) -- An anticipated pickup in U.K. inflation failed to materialize last month, a development that sent the pound lower as investors pared bets for a Bank of England interest-rate increase next month.
Summer sales meant clothes prices dropped sharply in June, and there was also drag from computer games. Annual inflation stayed at 2.4 percent, surprising economists who had expected the rate to accelerate to 2.6 percent. Core inflation also surprised to the downside, slowing to a 15-month low of 1.9 percent.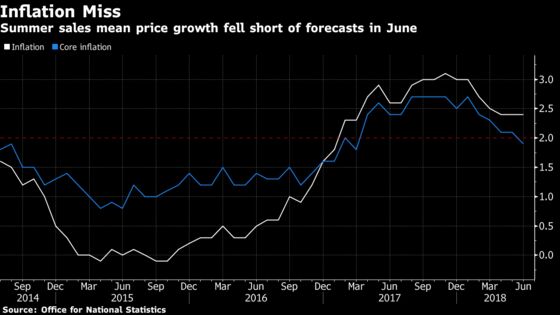 The figures represent the last take on inflation before BOE policy makers decide whether to raise interest rates on Aug. 2. While a hike is widely expected in financial markets, the June inflation rate is below the level predicted by the BOE in May. In what's a key week for U.K. data, figures on Tuesday showed headline wage growth eased in May.
The pound dropped after the inflation release and was 0.5 percent lower at $1.3044 as of 10:22 a.m. London time after recovering some of its initial losses. Investors cut the probability of an August rate rise to 78 percent from 84 percent on Tuesday, and Fidelity International said it doesn't expect a hike.
"As well as stagnant real incomes, the Bank of England will be mindful of the deepening economic and political uncertainty" related to Brexit, said Tom Stevenson, investment director Fidelity. "August's expected rate hike is, therefore, even less of a dead cert than it was."
Even so, former BOE policy maker Andrew Sentance, who is now a senior economic adviser at PwC, said it "still remains sensible" to raise rates next month.
"The case for higher interest rates does not rest on short-term indicators," he said. "It is based upon the need to restore some balance and normality to monetary policy after the long period of extremely low borrowing costs."
What Our Economists Say:
"An unexpectedly weak inflation reading today is unlikely to dissuade the Bank of England from raising interest rates next month. Inflation remains above the central bank's target and the tightness of the labor market suggests the risks to inflation in the medium term are tilted to the upside."


--Dan Hanson and Jamie Murray, Bloomberg Economics. Read the full REACT.
The data from the Office for National Statistics showed that clothing and footwear prices fell by 2.1 percent between May and June, the biggest decline for the month since 2012.
That effect was partly offset by auto fuel as the costing of filling up rose by 2.2 percent. Upward pressure also came from electricity and gas prices after suppliers including British Gas, EDF and Scottish Power increased their tariffs in response to higher wholesales costs.
Separate figures showed producer input prices rose 10.2 percent in June from a year earlier, driven by oil. Factories, however, have chosen to absorb much of the pressure rather than pass it on to consumers with output prices rising 3.1 percent.