U.K. Inflation Slowdown Gives BOE Time Amid Brexit Perils
(Bloomberg) -- U.K. inflation slowed more than expected in September, giving the Bank of England room to move slowly on the path of raising interest rates.
While faster pay growth may be strengthening price pressures, the uncertainty from Britain's imminent divorce from the European Union is also undermining the economy. BOE Governor Mark Carney says a limited and gradual series of rate hikes are needed to keep inflation in check, and markets expect the next move to come after the U.K. formally leaves the bloc in March.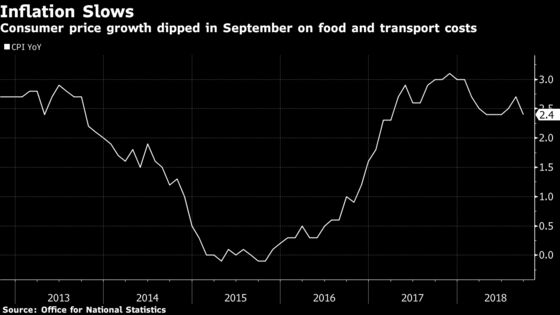 If the inflation rate "falls below the 2 percent target next year, that's going to constrain the pace at which the BOE raises," said Samuel Tombs, an economist at Pantheon Macroeconomics. Wednesday's data "really weaken the case to raise interest rates again before we know what's going to happen with Brexit."
Annual consumer-price growth dipped to 2.4 percent from 2.7 percent in August, the Office for National Statistics said. The forecast in a Bloomberg survey was 2.6 percent.
Downward pressure came mainly from food prices, which fell 0.2 percent on the month with chocolate and meat the key drivers. There was also pressure from ferry prices, clothing and recreation and culture such as theater tickets and computer games.
These influences were partly offset by energy prices, with tariff hikes lifting electricity prices by 1.8 percent.
Core inflation, which excludes volatile food, energy, tobacco and alcoholic drinks, slowed to 1.9 percent in September.
Inflation averaged 2.5 percent in the third quarter, in line with BOE forecasts. Signs of domestic cost pressures prompted officials to raise interest rates in August. Investors pared pared expectations for the next hike to come in May to about 65 percent this week from close to 90 percent last week.
The pound weakened after the data, falling 0.3 percent to $1.3148 as of 11:15 a.m. London time.
Price growth is expected to drift down toward the 2 percent target, giving a real-terms boost to households now enjoying the fastest wage growth in almost a decade. How quickly it gets there may depend on oil prices, with tensions with Saudi Arabia over the disappearance of Washington Post columnist Jamal Khashoggi reviving speculation that Brent crude could soon reach $100 a barrel.
"The higher wage growth than expected will matter more for the Bank of England's outlook than the downside surprise to inflation," said Kallum Pickering, an economist at Berenberg. "Tight labor markets plus an economy which is growing at or slightly above its potential rate suggests that the Bank of England may have to step up the pace of rate hikes next year or in the year after."
Producer input prices rose 1.3 percent, taking the annual rate of increase to 10.3 percent. Output prices climbed an annual 3.1 percent.
House prices rose just 3.2 percent in the year through August, the weakest pace since 2013. The worst-performing region was London, where values fell 0.2 percent.