U.K. Inflation Below Target Gives BOE Brexit Breathing Space
(Bloomberg) -- Want the lowdown on European markets? In your inbox before the open, every day. Sign up here.
Weaker-than-forecast U.K. inflation may be offering Bank of England policy makers a reprieve as they struggle to peer through the "fog of Brexit."
The rate fell back below the central bank's 2 percent target for the first time in two years in January, reducing pressure on policy makers as they face a possible no-deal Brexit that could hit the economy with fresh barriers to trade as well as weaker productivity and investment.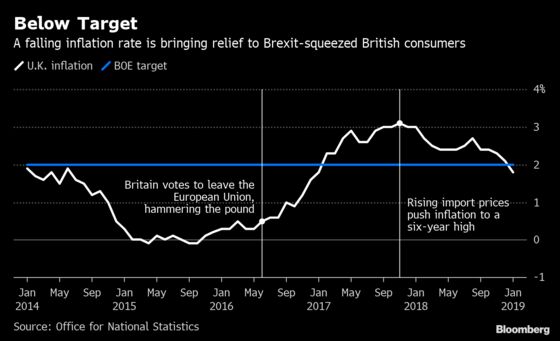 While Governor Mark Carney has even said a no-deal outcome, the most disastrous economically, could force the bank to raise interest rates, markets have been skeptical that they would actually do so. Investors have priced-out any rate increases this year, and many BOE watchers say it's more officials would return to their post-referendum playbook and ease policy.
"Given that the bank would be unable to raise rates if inflation was stronger than expected, it's a relief to see that inflation has been coming down," Thanos Papasavvas, chief investment officer at ABP Invest, said in a Bloomberg Television interview. "If there should be this worst-case scenario and the currency weakens, it will not create an inflationary shock."
With just 44 days until Britain is set to leave the European Union, Prime Minister Theresa May is said to be planning a last minute gamble to secure a transition deal, leaving officials, businesses and households in limbo over the future relationship. Even so, most economists expect some form of deal will be reached, allowing the BOE to continue its policy of "limited and gradual" rate increases later in the year as wage pressures rise.
What our economists say...
"If the U.K. and EU agree a Brexit deal, as we expect, a more protracted period of below-target inflation is unlikely to prevent the Monetary Policy Committee from lifting rates. The reason is that it's the medium term inflation outlook that matters most when setting policy."
--Dan Hanson, Bloomberg Economics. See U.K. INSIGHT
The figures are also a boost for consumers, who were squeezed by the sterling-induced inflation surge after the 2016 Brexit referendum and now face an uncertain future outside of the EU. With wage growth at its strongest in a decade, workers are once again enjoying real spending power.
Economists will gain further insight into the central bank's thinking when policy maker Gertjan Vlieghe gives his thoughts on the U.K. outlook Thursday.
The inflation slowdown -- sharper than the BOE anticipated -- was driven by cheaper gasoline, as well as a sharp fall in gas and electricity costs because of new regulatory price caps, the Office for National Statistics said Wednesday.
In November, the BOE predicted inflation would average 2.2 percent in the first quarter. It now forecasts just 1.8 percent, with the rate staying below target for the rest of the year.