U.K. Inflation-Adjusted Wages Stay Low Even as Pay Gains Quicken
(Bloomberg) -- British wages are growing at the fastest pace since the financial crisis, but the nation's workers don't have much to celebrate when those gains are adjusted for inflation.
Median weekly pay increased to 569 pounds ($734) in April, the Office for National Statistics said Thursday in its annual survey of earnings. That's up 3.5 percent from a year earlier in cash terms, the fastest growth since 2008.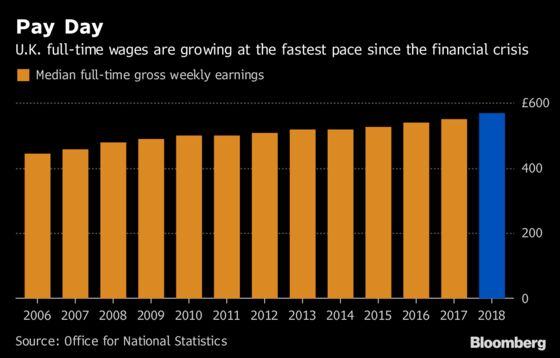 Still, earnings after price increases are broadly unchanged since 2011, and remain 3.7 percent lower than in 2008. After only tepid wage raises in recent years, workers' pay was squeezed even further by the inflation surge following the 2016 Brexit vote -- with real earnings only recently showing signs of returning to growth.
The longevity of the current pickup is dividing Bank of England policy makers. Deputy Governor Jon Cunliffe warned last week that the outlook for U.K. wage growth may be weaker than the central bank forecast five months ago, putting him at odds with the BOE's chief economist Andy Haldane, who said earlier this month that there was now "more compelling evidence of a new dawn for pay growth."