U.K. Households' Financial Stress Rising, Debt Firm Lowell Says
(Bloomberg) -- U.K. households are under increasing financial stress just as the Bank of England contemplates weaning the nation off of near-zero interest rates, according to debt-collection firm Lowell. 
The firm's U.K. Financial Vulnerability Index, based on data from its more than 9.5 million customers, rose in the first quarter of 2021. Preliminary analysis of the latest data seen by Bloomberg shows that average credit use among Lowell customers  climbed to 51.6% in the third quarter from 46.1% the previous three months.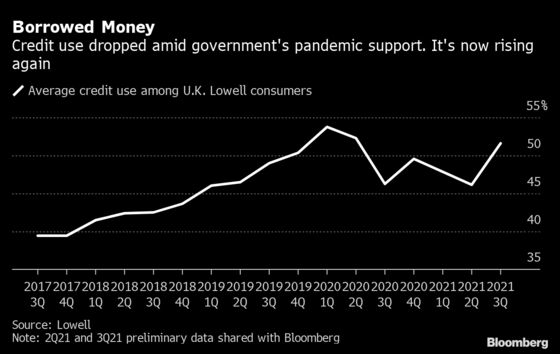 The figures offer a glimpse into the state of household finances on the eve of a BOE policy decision next week for which money markets are pricing in a 15 basis point hike. They see the benchmark Bank Rate rising to 1.25% by the end of 2022 from 0.1% currently, upping interest payments on everything from mortgages to credit card bills. 
"Communities are less financially resilient than before the pandemic. That has only continued to rise this year, with Lowell seeing further growth in credit use as government support has slipped away," said John Pears, Lowell's U.K. chief executive officer. "The BOE need to consider whether removing the economy's comfort blanket now is the right thing, especially when we look at the underlying consumer vulnerabilities in the U.K."
Britons' ability to manage their finances and adapt to sudden economic challenges like a job loss or emergency expense have been falling since Lowell's index started in 2017. The deterioration paused in 2020, helped by government support during the pandemic.
Major cities have seen the highest rises in household financial stress mainly due to a rise in people claiming social benefits, according to Lowell. In London, the number of claimants tripled to 21% in the first quarter of 2021 compared to the end of 2019.