U.K. House Prices Unexpectedly Drop in September, Halifax Says
(Bloomberg) -- U.K. house prices fell by the most since April last month, extending the soft patch since the vote to leave the European Union
Prices dropped 1.4 percent from August, mortgage lender Halifax said in a report Friday, though economists had forecast a monthly increase. The previous month's figure was also revised to a 0.2 percent decline. On an annual basis, the growth rate was 2.5 percent in the three months to September.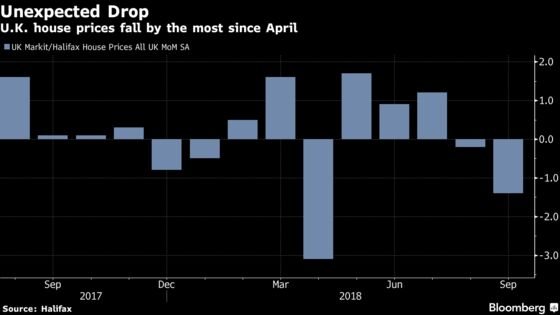 The U.K. housing market is in the doldrums after a three-decade boom, with London being particularly hit by the uncertainty created by Brexit and stretched affordability. While interest rates are still near historical lows, the Bank of England lifted borrowing costs in August and said a series of hikes will be necessary to keep inflation in check.
Still, record-low unemployment and a shortage of properties for sale continue to support the market. The average U.K. home price is now 225,995 pounds ($295,000), Halifax said.