U.K. House Prices Rose Before Pandemic Froze the Property Market
(Bloomberg) -- U.K. house prices rose last month before the full extent of the impact of the coronavirus pandemic hit the market, according to Nationwide Building Society.
Values climbed 0.7%% in April, the mortgage lender said Friday, while noting that the figures didn't fully capture the effect of the crisis. From a year earlier, prices rose 3.7% -- the fastest pace since February 2017 -- a sign values were picking up before the virus hit.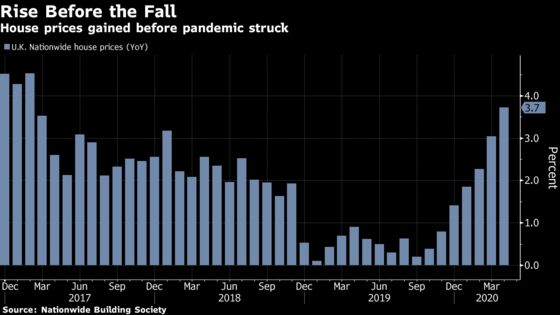 The pandemic has all but frozen the U.K. market, preventing viewings, disrupting moves and causing the government to urge transactions and mortgage offers be put on hold to help Britons comply with social distancing measures. Nationwide's figures are based on mortgage approval data, which is a lagging indicator, and 80% of cases in April relate to applications made before the U.K.'s lockdown started.
"Housing market activity is now grinding to a halt as a result of the measures implemented to control the spread of the virus," said Robert Gardner, Nationwide's chief economist. "The medium-term outlook for the housing market is also highly uncertain, where much will depend on the performance of the wider economy."
The turmoil has prompted Nationwide to echo other organizations in saying it is very hard to produce meaningful statistics amid the crisis.
"A lack of transactions will make gauging house price trends difficult in the coming months," Gardner said. "Our ability to produce the index in the months ahead will depend on there being sufficient transactions which are representative of the wider housing market."