U.K. House Prices Rise Most Since 2018 Following Brexit Election
(Bloomberg) -- U.K. house prices climbed at the strongest annual pace since July 2018 this month, continuing a positive trend following Boris Johnson's election win, according to Nationwide Building Society.
Values rose 2.3% from a year earlier, and gained 0.3% from January alone, the mortgage lender said Friday. Nationwide also noted signs that activity is picking up 2020.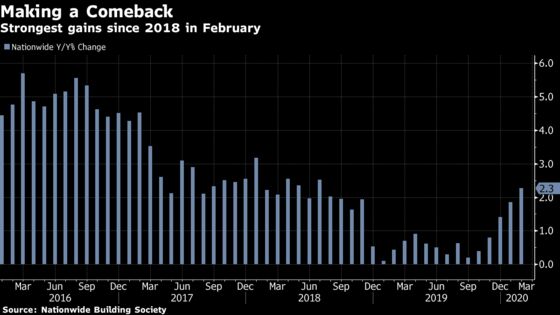 The report is the latest to show the U.K. economy, and particularly the housing market, is gaining momentum since Johnson's decisive election victory created a breakthrough in Britain's Brexit drama. Separate reports Friday showed consumer confidence is at the highest since August 2018, while business sentiment is at a 14-month high.
"Recent data releases indicate that the housing market has gathered momentum in recent months and the latest house price figures are in line with that trend," said Robert Gardner, Nationwide's chief economist.
The question now is how long the bump can be sustained as the U.K. moves toward a fresh Brexit deadline at the end of this year, with the government indicating its prepared to end the transition period without striking a free-trade agreement with the bloc.
Another looming risk is the spread of the coronavirus, which Bank of England Governor Mark Carney said could result in a growth downgrade for the U.K.
The economic outlook and the threat of coronavirus means that the housing market is likely be flat this year, Nationwide said.
"The global economic backdrop remains challenging, with the coronavirus outbreak expected to weigh on global activity in the coming quarters," Gardner said. "Investment is likely to remain subdued until the U.K.'s future global trading relationships become clearer, which is unlikely until early next year."