U.K. House Prices Post Modest Gain; London Remains Weak Spot
(Bloomberg) -- U.K. house prices rose in September, though the overall picture of the property market was broadly unchanged, according to Nationwide Building Society.
Values increased 0.3 percent on the month after a 0.5 percent drop in August, the lender said in a report Tuesday. Annual price growth held at 2 percent. Regional data showed that, from a year earlier, London prices fell for a fifth quarter in the three months through September. They were down 0.7 percent.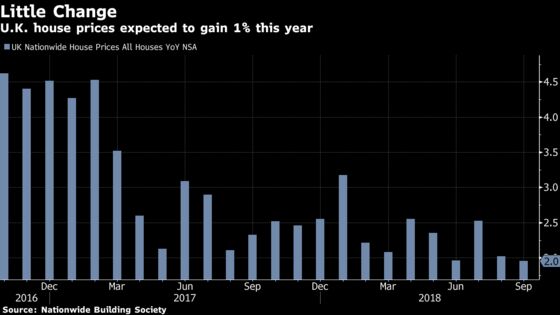 Britain's housing market is weakening after a boom in recent years, and uncertainty created by Brexit is adding to caution among potential homebuyers. The Bank of England also raised interest rates to the highest since 2009 in August, which could discourage buyers.
Figures earlier this week showed a pickup in mortgage approvals in August, though they are little changed compared with a year earlier. The BOE lifted its benchmark rate by a quarter point to 0.75 percent on Aug. 2. The central bank says that a limited and gradual tightening will be needed to keep consumer prices in check over the next few years.
"Subdued economic activity and ongoing pressure on household budgets is likely to continue to exert a modest drag on housing market activity and house price growth this year," said Robert Gardner, Nationwide's chief economist.