U.K. House Prices Finish Year With Strongest Growth Since 2006
U.K. house prices rounded off their strongest year since 2006 with a bigger-than-expected increase in December and buyers shrugging off concerns about growing coronavirus infections.
The average price of a home rose 1% to 254,822 pounds ($334,090) this month, which is typically one of the quietest of the year, Nationwide Building Society said Thursday. That was double the pace expected by economists. The annual rate of growth climbed to 10.4%, the fastest in 15 years.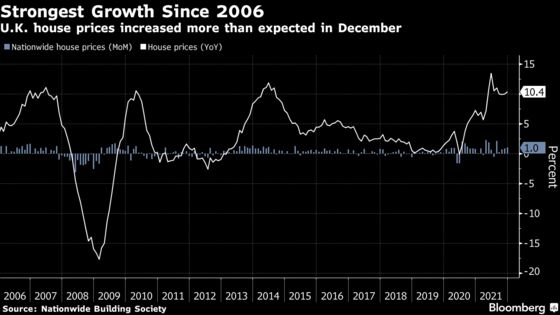 Buyers weary of lockdowns during the pandemic are snapping up more spacious properties outside urban areas with room to work from home. That trend is likely to get tested in 2022 as rising borrowing costs, stretched affordability and pinched household finances restrain the ability of consumers to keep paying more.
"It appears likely that the housing market will slow next year," said Robert Gardner, chief economist at Nationwide. "Even if wider economic conditions remain resilient, higher interest rates are likely to exert a cooling influence. Affordability is already less favorable than before the pandemic struck."
Wales showed the strongest growth of any region, the first time it topped the survey since Nationwide started collecting data in 1973
London was the weakest performer with a 4.2% increase, the only U.K. region to see slower growth in 2021 than the year before
The South West had the strongest gains in England with 11.5% annual growth, the most for that region since 2004
What Our Economists Say ...

"The U.K.'s housing boom continues, but it's set to cool in 2022 as interest rates edge higher and household incomes are squeezed. Still, prices are likely to be underpinned by high demand for more spacious homes and limited supply."

--Niraj Shah, Bloomberg Economics. Click for the full REACT.