U.K. Hiring Losing Steam Shows Damage From Covid Restrictions
(Bloomberg) -- The recovery in U.K. hiring is stalling as new Covid restrictions hit confidence.
The number of people signaling that they have found a new job has returned to levels seen before the pandemic but that growth is now starting to flag, according to analysis by networking website LinkedIn. It's a pattern seen across many developed economies and illustrates the scale of the challenge facing governments to contain a spike in unemployment.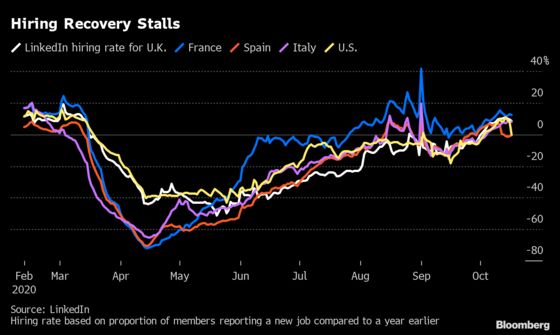 Even hiring levels close to those seen last year will do little to help the hundreds of thousands of Britons that have already lost work. Cuts jumped the most on record in the three months through August even as lockdown eased.
Prospects are likely to worsen as the government's original furlough program finishes at the end of October and more areas of the country are placed under new restrictions.
"As long as you have rolling lockdowns and more uncertainty around what's going to happen, you don't have businesses that are really willing to re-expand," said LinkedIn's Chief Economist Karin Kimbrough. "A lot of people are left on the sidelines."
She forecasts the unemployment rate will climb to 6.5% by the end of the year based on analysis of the platform's 29 million members. The roles most in demand by British employers include software development, project management, remote customer assistance and delivery drivers.
The recovery in consumer spending faded at the end of July, a separate report by the Institute for Fiscal Studies showed. In September, it was at 89% of the level a year earlier.