U.K. Economy Barely Grew in October as Shortages Hit Builders
(Bloomberg) -- The U.K. economy grew less than forecast in October as shortages of materials hit manufacturing and construction, and a further loss of momentum now seems inevitable with consumers facing fresh restrictions to contain the new strain of Covid-19.
Gross domestic product grew 0.1%, compared with 0.6% in September, the Office for National Statistics said Friday. Growth of 0.4% was forecast in a Bloomberg survey of economists. It left output 0.5% lower than in February 2020, before the pandemic struck.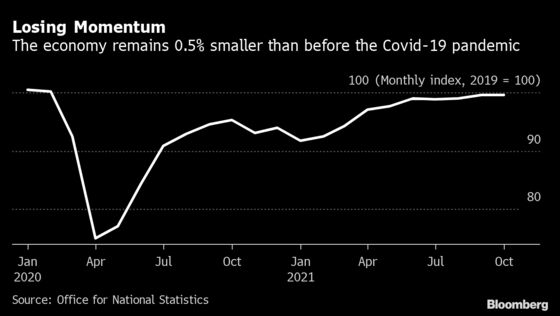 The outlook for the end of the fourth quarter appears to be even bleaker after Prime Minister Boris Johnson this week announced measures, including guidance that people should work from home, in an effort to halt the spread of the omicron variant. Bloomberg Economics estimates the curbs could cost the economy as much as 2 billion pounds ($2.6 billion) a month.
The potential hit to consumer spending has left traders all but convinced that the Bank of England will refrain from raising interest rates until February. Until recently, a December hike was fully priced in due to acute labor shortages driving up wages and inflation.  
In October, manufacturing flat-lined and construction shrank as both sectors continued to experience shortages of materials and components. That offset a gain for services that brought the sector back to pre-pandemic levels. 
The increase in services was driven by more face-to-face appointments with medical doctors. Consumer-facing services were 5.2% below pre-Covid levels, despite a retail sales-driven gain in October.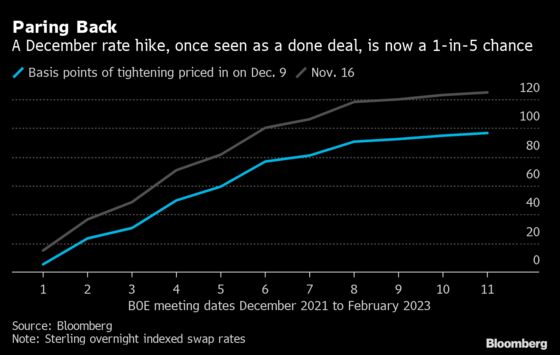 The figures come as BOE officials prepare to discuss whether to become the first major central bank to raise interest rates from their pandemic lows. Labor market data are due to be released on Dec. 14, two days before their decision is announced.
While the end of government support for furloughed workers does not appear to have increased unemployment, the threat posed by omicron is casting a shadow over the outlook. Michael Saunders, the most hawkish member of the nine-member Monetary Policy Committee, signaled last week he favored waiting for more evidence on the variant's impact. 
"Given the uncertainty around the shape and evolution of the government's restrictions and their impact on household spending, we expect the Monetary Policy Committee unanimously to hold off raising rates until February," said Yael Selfin, chief economist at KPMG UK. 
"While the service sector managed to reach its pre-Covid level, the figures underscore the underlying weakness of many parts of the economy, with the main boost to growth coming from the National Health Service and strong contribution from the travel sector likely to be reversed as pandemic related restrictions are reintroduced," she added.
The construction sector shrank by 1.8% in October as output was once again heavily impacted by shortages of timber, cement, steel and glass. Manufacturing, where output was unchanged, also reported shortages of components that left firms unable to fulfill an increase in orders. Services gained 0.4%.
According to Dan Hanson of Bloomberg Economics, the curbs announced this week could cost the U.K. 1% of GDP with output contracting in December as offices empty and customers avoid going to the shops.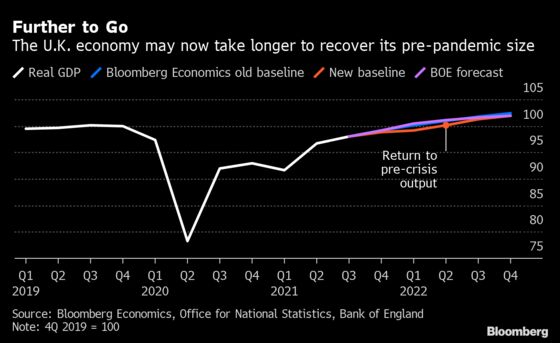 Crucially, it could delay the moment the economy returns its pre-pandemic size on a quarterly basis until the second quarter of 2022, a milestone already passed by the U.S. and set to be achieved by France in the current quarter. Only Spain among advanced economies has more lost output to make up.
'We've always acknowledged there could be bumps on our road to recovery," U.K. Chancellor of the Exchequer Rishi Sunak said following the data on Friday. "But the early actions we have taken" means the U.K. is "well placed to keep our economy on track."
Separate figures showed the trade deficit widened in the three months to October, driven by a deteriorating balance in goods excluding precious metals.
Reduced car production in Europe, led by the global semiconductor shortage, contributed heavily to a drop in European Union imports in October. Exports rose marginally, driven by shipments to non-EU countries. Exports to the EU declined.
"With the ongoing coronavirus pandemic and recession, it is difficult to assess the extent to which these trade movements reflect short-term trade disruption or longer-term supply chain adjustments," the ONS said. It noted a separate survey showing that 64% of exporters and 75% of importers faced challenges in late October to early November.
"This data caps a difficult year for British exporters," said Ana Boata, head of economic research at trade credit insurer Euler Hermes. "The picture will improve markedly in 2022 but we don't expect U.K. trade to surpass its pre-pandemic level until 2023."