U.K. Debt Costs See Fastest Spike Since 2010 as Inflation Bites
(Bloomberg) -- U.K. debt costs are rising at the fastest pace since the aftermath of the global financial crisis, a potential headache for Chancellor Rishi Sunak as he faces pressure to spend more to help businesses weather the impact of the omicron variant. 
Figures published Tuesday showed interest payments made by the Treasury surged 54% between April and November, or by 15 billion pounds ($20 billion) to 42.9 billion pounds. That's the biggest jump for the period since 2010.
Costs are mounting because a quarter of government debt is tied to retail prices, which have spiked this year. The jump doesn't yet take into account the latest increase in the Retail Price Index, which hit a three-decade high of 7.1% last month, meaning debt interest will climb even more steeply.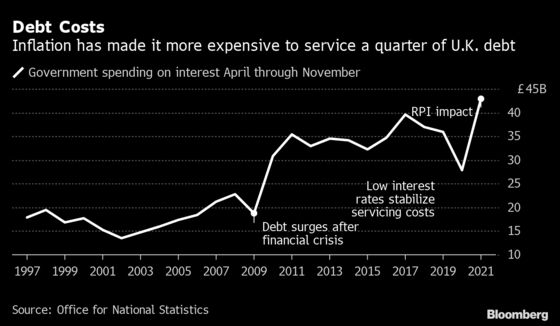 The Bank of England's decision to raise interest rates last week for the first time since the pandemic began will also feed through into higher costs for the government.
Public sector pay has also rocketed in the past year, climbing 9.1% to 110 billion pounds so far this year as tens of thousands of people were added to the payroll to help battle the pandemic. Public sector wages were the fastest growing cost after debt interest.
Against that backdrop, Sunak may find it hard to meet key commitment on debt and deficit-reduction if inflation remains elevated for longer than initially expected.  
That task has been made even harder by the rapid spread of the omicron variant of Covid-19, which is threatening to hit economic growth and push up government spending. With public fears about omicron hammering stores and hospitality businesses during the crucial Christmas period, Sunak is under growing pressure to restart government aid.
The good news for the Chancellor is that the budget deficit has come down since the heights of the crisis. The figure between April and November was 136 billion pounds, little more than half the shortfall posted a year earlier.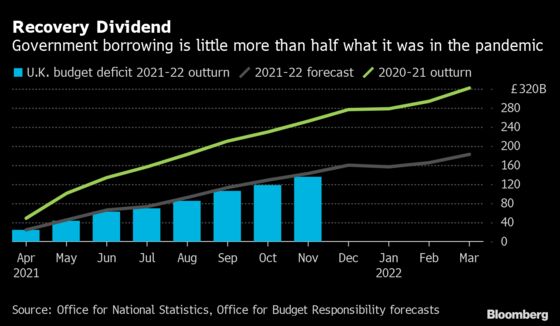 The deficit in November alone was 17.4 billion pounds, slightly higher than forecast. The decline this year reflects economic growth boosting tax receipts and reduced pandemic-related spending.