U.K. Faces Mass Jobless Risk as Furlough Enters Final Countdown
(Bloomberg) -- Employees at the U.K.'s largest firms are about to find out if the government's controversial decision to end its furlough has cost them their jobs.
While the program is due to run until Oct. 31, any firm wishing to make 100 or more workers unemployed on that date will have had to begin an official consultation period by Wednesday -- 45 days before the deadline.
The government has ruled out an extension, leading to warnings of a surge in unemployment in the coming months. Even with the aid, which covered up to 80% of wages, figures this week showed the economy has already lost almost 700,000 jobs since April.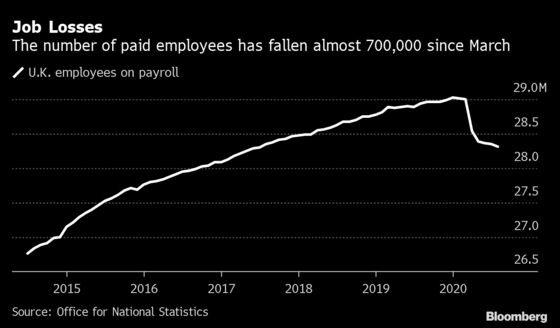 The consultation requirement under U.K. law means that any extra state help may come too late for some. While Chancellor of the Exchequer Rishi Sunak has repeatedly said he sticking with the October deadline, he gave a strong hint this week that he'll provide some form of extra support.
That message was reinforced by Boris Johnson on Wednesday. Questioned by a panel of lawmakers, the prime minister said the government will continue to be "intensely flexible and creative" to support every sector of the economy.
"I don't believe that anyone on this committee seriously imagined that the government of this country would come up with something as imaginative as the furlough scheme six months ago," Johnson said. "We will continue to apply the same levels of imagination."
Ministers are also studying what can be done to help small and medium-sized companies struggling with debts built up as a result of the lockdown, he said.
More than 9 million workers were covered by the furlough, and 2.8 million remained on the plan as of June 30, according to government data. Firms with more than 250 employees have been the largest users in terms of total jobs furloughed. Companies that want to make between 20-99 cuts on Oct. 31 have just over two weeks longer to decide their plans.
Many companies haven't waited for the furlough to run out. British Airways Plc is expecting to cut as many as 10,000 jobs, and more than 7,000 people have already left, while around 15% of U.K.-based positions at Airbus SE are earmarked for elimination. Marks & Spencer Group Plc plans to cut about 7,000 jobs.
The Trades Union Congress has warned of a "crisis of mass unemployment" without more government action.
"Losing a job in a recession can cause really lasting damage," Tony Wilson, director of the Institute for Employment Studies, said in a Bloomberg Television interview. "There are clearly industries and firms that would be viable if they can just get through the winter months. Targeting help there and then supporting those workers who risk losing their jobs across the economy this year should be a priority."
Business groups have called for a range of measures to help companies. The Treasury is looking at proposals from the Confederation of British Industry to introduce a new short-time working plan that would support employees returning to, rather than those kept off, work. They would do a minimum of 50% of their normal hours, paid for by their company, with some of their additional wages funded by the state.
Other plans being examined include extending the yearlong business rates holiday, further deferrals of sales-tax payments, and a proposal to cut employers' national insurance payments.