U.K. Employment Climbed to Record High Before Virus Outbreak
The U.K. labor market remained robust in the three months through January but a sharp deterioration appears inevitable as the coronavirus crisis spreads panic across the globe.
The number of people in work hit a record high after jumping a larger-than-forecast 184,000, according to figures published Tuesday by the Office for National Statistics. Unemployment rose slightly but the increase was due to more people joining the labor market. Wage growth remained above 3%. The pound was little changed following the data at $1.2179, down 0.8% on the day.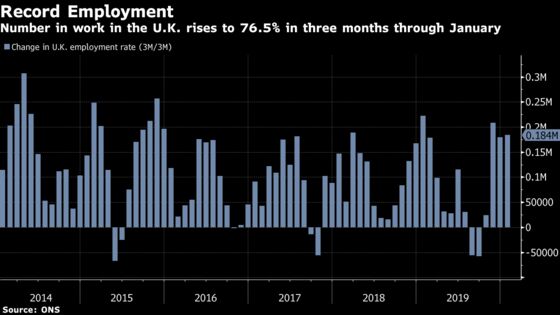 Unemployment had been expected to stay around its current rate of just below 4%. Now analysts are predicting an economic slowdown and a possible recession as the coronavirus pandemic puts hundreds of thousands of jobs at risk in sectors from aviation to hospitality.
Chancellor of the Exchequer Rishi Sunak, who announced a 12 billion-pound ($14.6 billion) relief package in his Budget last week to help cope with the economic fallout, is due to unveil further measures later Tuesday.
Yesterday, as the U.K. death toll rose to 55, Prime Minister Boris Johnson urged the public to avoid all "non-essential" contact with other people in an effort to arrest the virus and stop it overwhelming a National Health Service now stretched to its limits.
The latest snapshot of the U.K. labor market shows:
Employment reaches record 32.99 million; rate at all-time high of 76.5%
Rise was driven by full-time work among employees and those who work for themselves. Women accounted for almost all of the increase
Unemployment rises 63,000, lifting the jobless rate to 3.9%. Increase was driven by a falling number of people neither working nor looking for work, with inactivity falling 175,000
Unemployment rose from a year earlier for the first time since 2012
Demand for labor increased, with vacancies rising 19,000 to 817,000 between December and February
Average earnings growth excluding bonuses slowed modestly to 3.1% from a year earlier
Bonuses boosted total wage growth, which accelerated to 3.1%
Employment in central and local government rose 15,000 in the fourth quarter to 5.28 million. NHS employment climbed 14,000 to 1.73 million