U.K. Economy Begins 2019 on a Stronger-Than-Expected Footing
(Bloomberg) -- The U.K. economy rebounded at a stronger-than-expected pace in January following a downbeat end to 2018, Office for National Statistics figures published Tuesday show.
Gross domestic product grew 0.5 percent, the biggest monthly gain in more than two years, after it shrank 0.4 percent in December. That left growth in the latest three months at 0.2 percent, maintaining the pace recorded in the fourth quarter.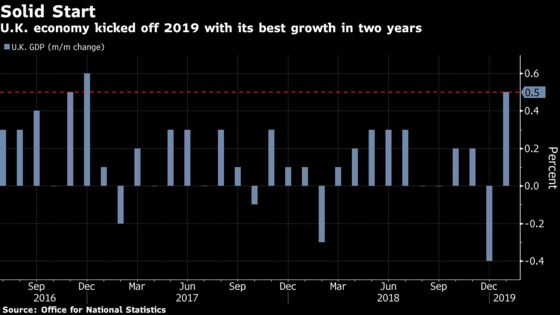 The monthly figures can be volatile, and economists don't see a broad improvement in the economy until there's clarity on Brexit. Prime Minister Theresa May is preparing to put her latest deal to another parliamentary vote Tuesday, though even with last-minute changes, it remains to be seen if it will pass.
Brexit, not economic data, is the dominant factor driving the pound. Sterling erased earlier gains on Tuesday after the U.K. Attorney General said the legal risk of the deal hasn't changed. Sterling was down 1 percent as of 11:26 a.m. London time.
What Bloomberg Economists Say

"We expect growth to remain subdued until the outcome of Brexit is known. If a deal is agreed that should spur growth, though it's unlikely the Bank of England will move until it sees evidence of a rebound in the data... We still think the chances of a smooth and orderly Brexit is higher than a disorderly one."

Dan Hanson, economist
Click here to view the research.
The GDP comeback in January was broad based, with construction, manufacturing and the dominant services sector all increasing output following declines in December.
The return of real wage growth is underpinning demand, but Brexit fears are holding back spending. Purchasing Manager surveys point to growth of 0.1 percent this quarter, matching the weakest pace in over six years. Economists surveyed by Bloomberg in February saw 0.3 percent expansion.
Annual figures also tell a story of a broader slowdown. Over the past three months, the annual rate of growth was 1.3 percent, the weakest in more than five years. The ONS said there was no evidence of widespread stockpiling ahead of Brexit, despite a pickup in imports of medicinal pharmaceuticals in January.