U.K. Deficit Hits $380 Billion as Sunak Prepares for Budget
(Bloomberg) -- U.K. government borrowing climbed to 270.6 billion pounds ($378 billion) in the first 10 months of the fiscal year, highlighting the challenge facing Chancellor of the Exchequer Rishi Sunak to return the public finances to a sustainable path.

The figures are the last snapshot before Sunak announces his budget on March 3. Britain is facing the largest deficit in peacetime and pressure is building on the chancellor to add to it by extending pandemic support programs including furlough payments that are due to expire over the coming weeks.
The budget deficit stood at 8.8 billion pounds in January, a month that normally generates a surplus as payments of self-assessed income tax, corporate tax and Christmas sales taxes pour into the Treasury. It was the first January shortfall for 10 years, though well below forecasts.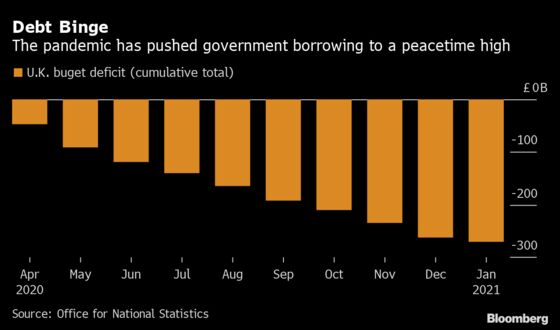 While Sunak has signaled that tax rises or spending cuts will eventually be needed, business lobbies and economists say acting too soon risks Britain's recovery from the worst economic slump in over 300 years. That message was reinforced this week when the Resolution Foundation warned that almost one in 10 U.K. workers expect to lose their jobs in the next three months.
Sunak has spent almost 300 billion pounds in response to the pandemic, leaving total debt above 2 trillion pounds, the equivalent of almost a year's economic output.
The January deficit was well below the 25 billion pounds forecast by both the Office for Budget Responsibility and private-sector economists. The ONS said it was hard to explain the difference, noting that revenue was boosted last month by self-assessed income tax receipts deferred from last July. In addition, the end of the Brexit transition period in December meant that many regular payments to the European Union stopped last month. They included contributions to the EU budget, which averaged around 1 billion pounds a month.
Tax revenue fell 1% in January from a year earlier, while spending surged almost 32%, despite a drop in debt-interest costs. The ONS figures do not include costs relating to non-payment of state-backed loans issued during the pandemic.
As a result, the deficit for the whole of 2020-21 is likely to come in well below the 394 billion pounds forecast by the fiscal watchdog until the ONS incorporates the writeoffs -- estimated at around 30 billion pounds this year -- into its own figures.