U.K. Consumers Looked Cautious Even Before Latest Brexit Chaos
(Bloomberg) -- British consumers were starting to flag even before the crisis over Brexit erupted this week.
Retail sales unexpectedly fell for a second month running in October, the Office for National Statistics said Thursday. The 0.5 percent decline was the largest in seven months, signaling a worrying loss of momentum ahead of Black Friday and the key Christmas trading period.
The figures were released just minutes after Brexit Minister Dominic Raab resigned over Prime Minister Theresa May's draft deal to leave the European Union, plunging the government into crisis. Even if May survives, she faces a herculean task to get the agreement through a bitterly divided Parliament. Failure would set Britain on course for a chaotic exit in March.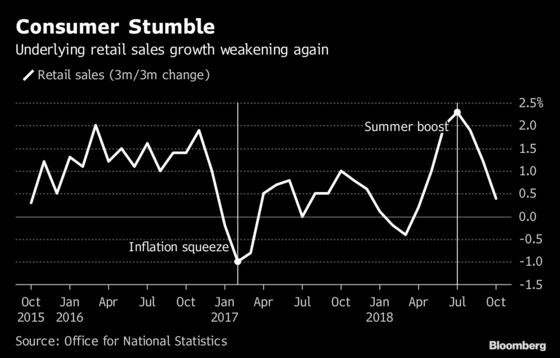 Worse could be to come for U.K. consumers. Thursday's political chaos sent the pound tumbling, a move which, if sustained, could push up inflation and reduce their spending power.
With sales rising strongly over an unusually hot summer, Bank of England Governor Mark Carney said this month that households appeared resilient to a Brexit that has not yet happened. That stoicism could be tested now the process is entering its endgame, according to Pantheon Macroeconomics's Samuel Tombs.
"Consumers' confidence already has weakened in recent months due to concerns about the economic outlook," he said "We doubt households are feeling any surer that a no-deal Brexit will be avoided after this week's political turbulence."