U.K. Consumer Confidence Rebounds With Summer Cheer, GfK Says
(Bloomberg) -- U.K. consumer confidence increased after a turbulent start to the summer, but it's not clear how long the rebound will last as the Oct. 31 Brexit deadline draws near.
Britons were more optimistic in July than the previous month about almost all of the areas of GfK's confidence measure index, including their personal finances, and their appetite to make major purchases. When it comes to the state of the economy, the sentiment of the British public is unchanged relative to June.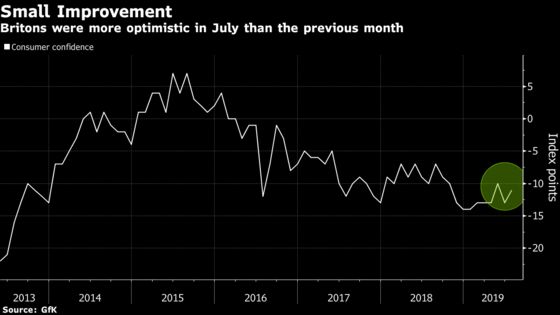 The increasing possibility of a no-deal Brexit under the leadership of new Prime Minister Boris Johnson as created uncertainty among investors, who have sent the pound to the lowest since 2016, and curtailed business investment. Yet shoppers have kept spending, and retail sales rose in June.
"Consumers have generally been less affected by Brexit uncertainties than business since the referendum," said Joe Staton, the client strategy director at GfK. "However, the coming months to the Oct. 31 departure date will test the strength of this confidence."
GfK's survey covered 2,002 individuals between July 1-14. In a separate report, BRC-Nielsen said that consumers are also benefiting from the second consecutive month of falling shop prices, including everyday products such as clothes and shoes.
"With so much economic uncertainty, it's good news for shoppers that there was no pressure coming from shop price inflation during July," said Mike Watkins, head of retailer and business insight at Nielsen.
For more insight from Bloomberg Economics, click here