British Business and Consumer Confidence Stay Gloomy
(Bloomberg) -- The mood among British businesses and consumers stayed subdued in July as the Bank of England prepares to raise interest rates and Brexit looms on the horizon.
U.K. firms' confidence was unchanged at lowest level this year, Lloyds Bank said in a report published Tuesday. A separate index of consumer confidence fell to the lowest since February, GfK reported.
The Bank of England is widely expected to increase interest rates by a quarter-point this week, while Brexit is creating uncertainty about the nation's future trading relationship with the European Union. The two sides are scrambling to work out a plan with the U.K. scheduled to leave in March next year.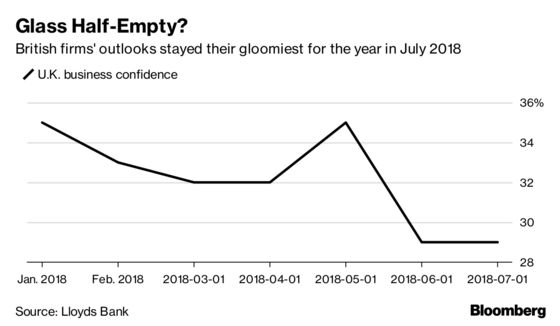 GfK's report showed households were less inclined to make major purchases in July than at any other point this year.
"Any bad news such as a surprising uptick in inflation with the expectation of a corresponding increase in interest rates, or any adverse political event either at home or abroad, would likely have an exaggerated downward drag on consumer confidence," said Joe Staton, client strategy director at GfK.
A separate report by YouGov and the Centre for Economics and Business Research showed consumers became marginally more optimistic this month as job security improved by the most since July 2015. That index is still well below the level it was before the Brexit referendum in 2016.