U.K. Companies, Consumers Are Still Tangled Up in Brexit Blues
(Bloomberg) -- The U.K. has failed yet again to end the Brexit uncertainty that's put the brakes on investment and consumers.
Mere hours after businesses cautiously welcomed a provisional deal for withdrawal from the European Union, a wave of government resignations undermined Prime Minister Theresa May's proposals.
That dashed any relief for executives who've been calling for clarity ever since the process began.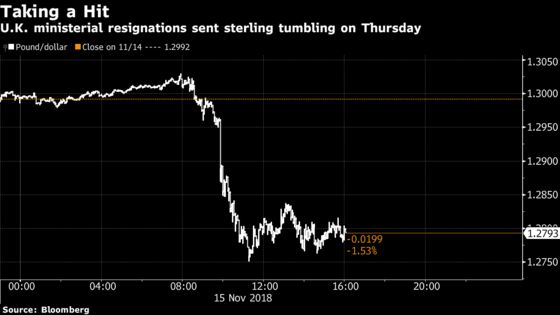 The pound fell and traders pushed back bets on the timing of the next Bank of England interest-rate increase, taking the view that the latest chaos in government will ultimately be bad for the economy. A weaker pound, if it persists, will push up prices via higher import costs, which is bad news for workers who are only just starting to see real pay growth.
Even before the latest developments, there were reasons for concern. Retail sales fell for a second month in October, and consumers' view of the economic outlook has remained mired at low levels. Meanwhile, U.K. economic growth is forecast by the European Commission to be just 1.2 percent in 2019 and 2020. That's below the rates forecast for Germany, France and the euro area as a whole.
While the BOE sees a slightly stronger performance -- 1.7 percent in 2019 -- that's predicated on a smooth transition to a deal that's an "average" of a range of good and bad scenarios. Earlier this month, it cut its forecast for business investment growth to zero, and said companies are "now understandably postponing investment until they have greater clarity."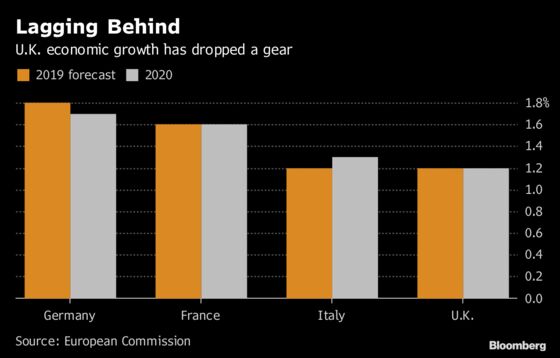 Even before May's plan floundered on Thursday, businesses' welcome to the news of even a possible deal had been lukewarm. The Confederation of British Industry said it was "progress," but there was still work to do, while the British Chambers of Commerce said it "this may be end of the beginning — but not yet the beginning of the end."
Brexit continues to be a risk that's constantly cited by companies as the March 2019 exit date moves ever closer, making frequent appearance in earnings statements over recent days.
Norcros, a maker of ceramic tiles, said Thursday it's an "important short term consideration for our businesses with potential consequences ranging from increases in cost prices, additional tariffs, lower consumer confidence levels and supply chain disruption." For Carclo, a maker of parts for the medical and electronics industry, there's simply "economic uncertainty."
The nervousness has not been helped by comments from the government about stockpiling essentials in case of no divorce deal being agreed. Justin King, former chief executive of British supermarket giant Sainsbury, told Bloomberg Television that "it's almost impossible to conceive that grocery supply chains, as they're constructed in the U.K. today, can survive a no-deal Brexit."
For many, the final shape of Brexit has proved too abstract to even start planning for possible scenarios. Almost two-thirds of U.K. businesses have yet to carry out a risk assessment on the impact of the split, according to the BCC, leaving them potentially unprepared whatever the outcome and putting activity and jobs at risk.