U.K. Card Spending Rises in February as Vaccines Lift Optimism
(Bloomberg) -- U.K. consumers stepped up their spending in the first week of February, according to figures published on Thursday.
Debit and credit card purchases were 24% below their pre-pandemic level in the week to Feb. 4, an improvement of 8 percentage points on the previous week, the Office for National Statistics said, citing Bank of England CHAPS clearing house data.
The figures are an indication that the rollout of coronavirus vaccines may be boosting consumer confidence. Households may also be adapting better to the current lockdown -- the country's third -- than during previous clampdowns to stop the spread of Covid-19.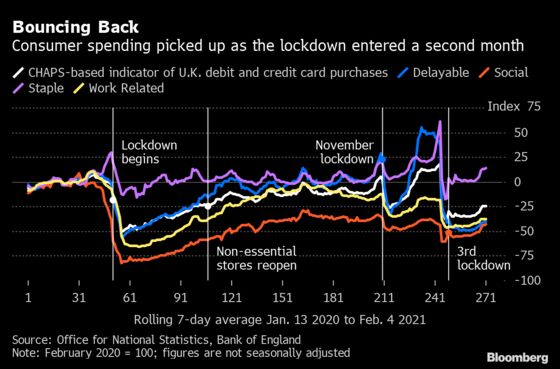 Consumption rose across the board, with spending on staples -- essential goods and services such as food and utilities -- 13% higher than in February, the figures showed. Other categories, including discretionary items such as clothing and furnishings, were still well below.
Separate ONS figures showed that 18% of the U.K. workforce was on furlough leave between Jan. 11 and Jan. 24, a similar proportion to the previous period.
Meanwhile, the number of homeowners falling into arrears of 2.5% or more of their outstanding mortgages rose only marginally in the fourth quarter from the previous three months, according to lobby group UK Finance.
The figure has been suppressed by lenders offering payment deferrals to customers hit by the pandemic -- around 130,000 deferrals were in place at the end of December. However, UK Finance warned that arrears will increase further if the furlough program ends in April as planned "and the economic impacts of the pandemic are realized."